Airports of Tomorrow
The Worlds Trendsetting Airports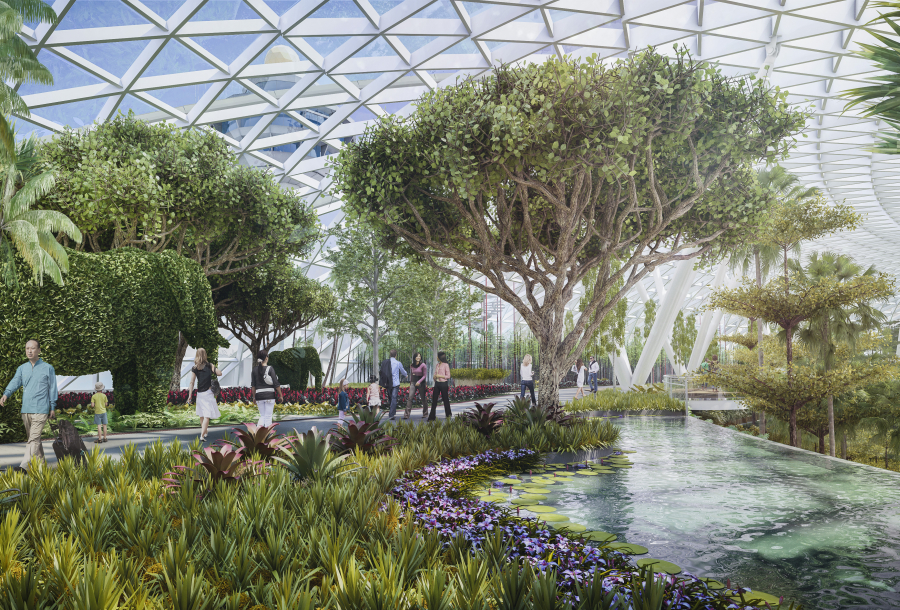 Trend
For so many years, we thought of airports as simply places to pass through; like a bus station or a turnstile, but now we are seeing that airports themselves can be the attraction. With the era of social media and with travel on everyone's bucket list these days, airports are seeing an all-time high in traveller numbers. In addition, these travellers are savvy-travellers. The millennial generation have likely seen more than a handful of airports in their lifetime and Generation Z are sharing their airport experiences with the world. Increasing usage of social media and the internet in today's communications and retail climate, means that every part of the journey is documented, from the airport to the hotel. If an airport can harness the interest of travellers as opposed to simply being a place to pass through, they will stand out and succeed. We ask here, what makes a great airport?
Arguably one of the most inspirational airport redesigns in the world right now is Changi Airport, Singapore, who have been working on a total redesign of the airport´s areas, beginning with the terminals. Living up to their slogan "always something more", this airport offers more experiences and visual wonders than one anticipates finding in an airport. Every parent knows how stressful travelling with children can be, however Changi offers slides amongst the travel retail areas, built in baby changing stations, miniature cinemas and art sculptures, keeping the children entertained.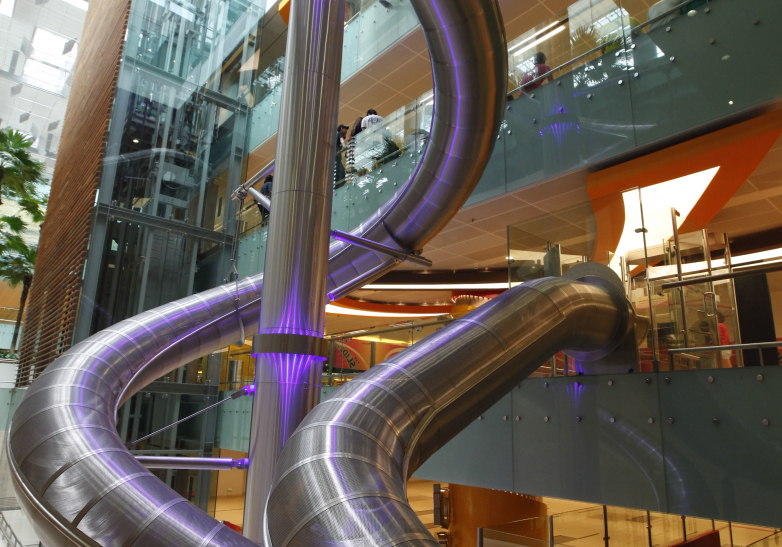 Terminal 3 Slide. Copyright: Changi Airport Group
Terminal 1 has an arrival garden filled with colour and natural greenery. It provides an outdoor experience in the comfort of the indoors to those just arriving in the beautiful country of Singapore. Terminal 2 hosts a mesmerising artistic masterpiece developed by Stockholm-based artist collective, "Humans Since 1982". This wall of analogue clocks forms into synchronised designs and patterns with the clock hands moving in spellbinding circles. If you´re still not entertained enough, you can visit Terminal 3, a great place to take a break before a flight. The terminal houses the world's first butterfly garden in an airport, not only stepping up to the growing trend and challenge of Corporate Social Responsibility by providing a place for nature in an urban setting but also an place for stressed travellers to unwind in a more unconventional way.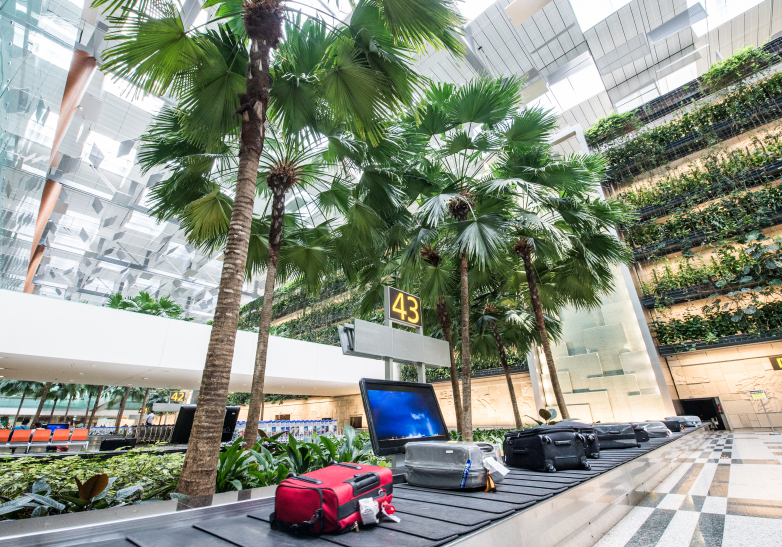 Terminal 3 Baggage Belt. Copyright: Changi Airport Group
With a gross floor area of 225,000 square meters (equal to about 27 football pitches!), Terminal 4 has several innovative retail concepts including an Integrated Duty-Free Zone with a cluster of visually stunning 11-metre high-ceiling shops. The façades represent the traditional colonial style architecture seen in Singapore. If travellers need a break from their shopping, they can watch the six-minute theatrical performance screened at intervals on the façade, giving travellers a glimpse of life in 1930´s Singapore.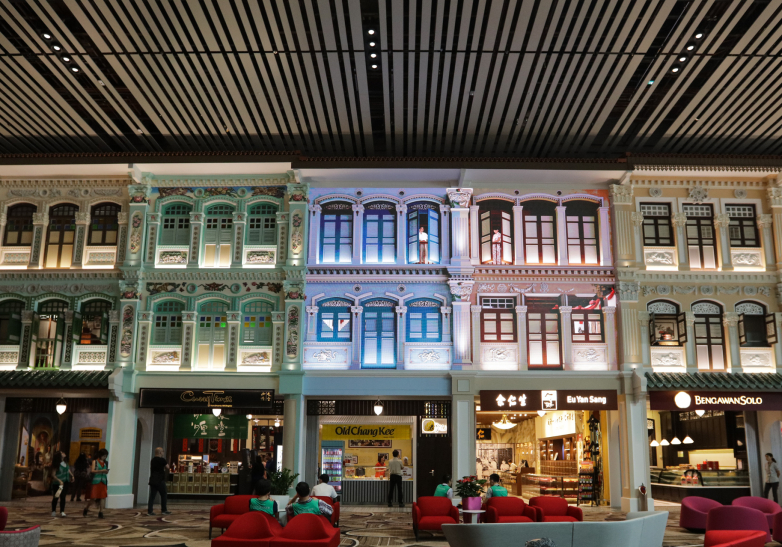 Terminal 4 - Heritage Zone. Copyright: Changi Airport Group
An Iconic National Landmark
Changi Airport realised that in order to achieve recognition as a world-renowned stopover destination, they had to think out of the box, or even out of the terminal! So, they created the Jewel; a stunning dome of glass and steel filled with nature and travel retail gems. In 2016 The Changi Jewel won the MAPIC Awards, Best Futura Shopping Centre.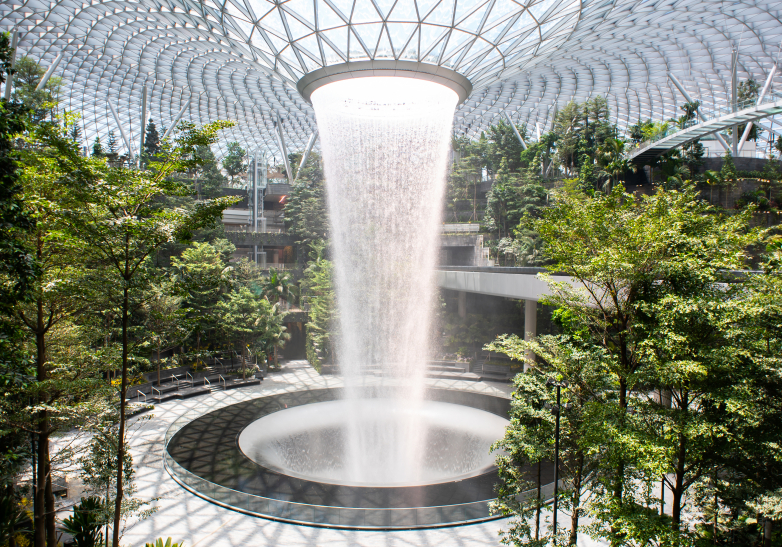 Jewel - Rain Vortex. Copyright: Changi Airport Group
To fulfil the travel experience dream, the Jewel houses a host of attractions: a hedge maze, mirror maze, high hanging bouncy nets and bridges to gape at the beautiful tree canopy's from above.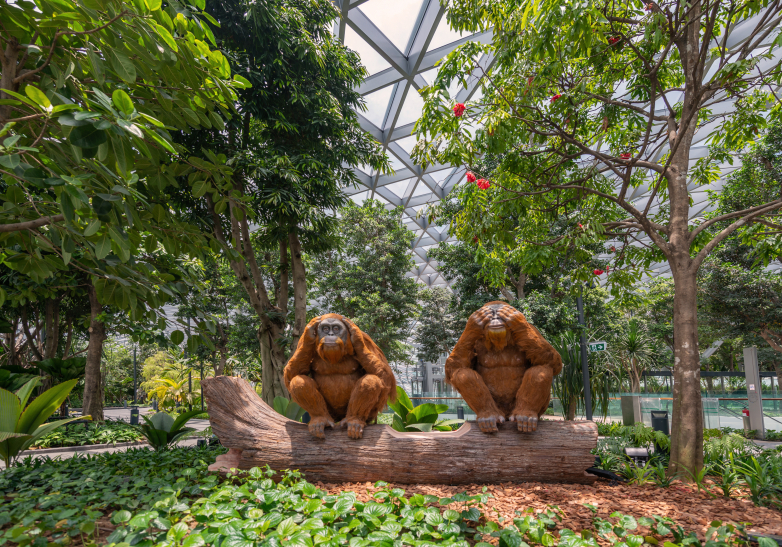 Topiary Walk at Canopy Park. Copyright: Changi Airport Group
The duty-free area Eurotrade Munich at Terminal 2 of Munich Airport reopened in December after a complete redesign, which was implemented by umdasch The Store Makers. The design bureau Gruschwitz, realised the importance of continuing the adventure of the traveller from the destination of Munich city into the airport. The idea was based on the growing trend that travellers don´t just want a place to shop, they want an experience that flows from the culture of the country they are visiting. Eurotrade Munich brought the character and culture of Munich into the Duty-Free, its squares playing a key role in the design. In addition to the Angel of Peace and the Isartor, one can also find a figure of Gustl Bayrhammer in the role of "Meister Eder" and his Pumuckl (a famous German cartoon series), created by the artist and sculptor Harry Seeholzer. These little pieces of Munich inside the terminal enable the traveller to continue their adventures right up until they get back on the plane home.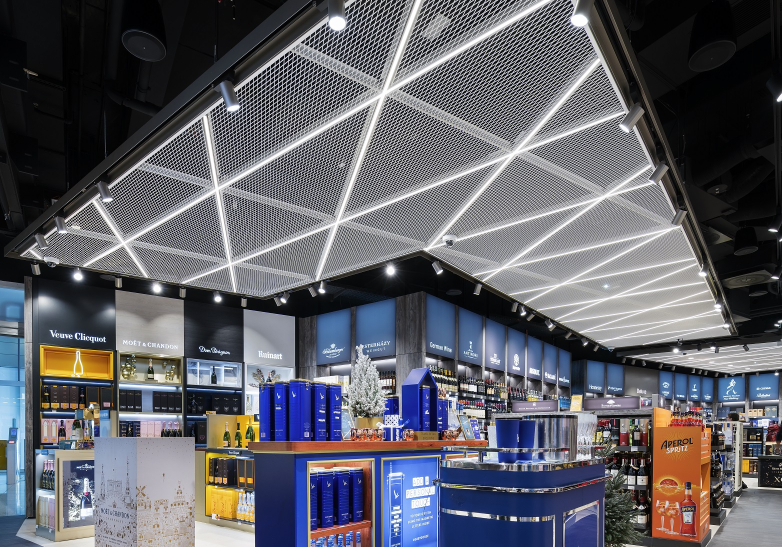 Eurotrade Munich Airport, Duty-Free. Copyright: umdasch
Joachim Nieters, Head of Design at Gruschwitz explains: "Munich does not have one single face. Munich has many faces ... and many stories. Some of these stories we want to give the visitor on their flight home."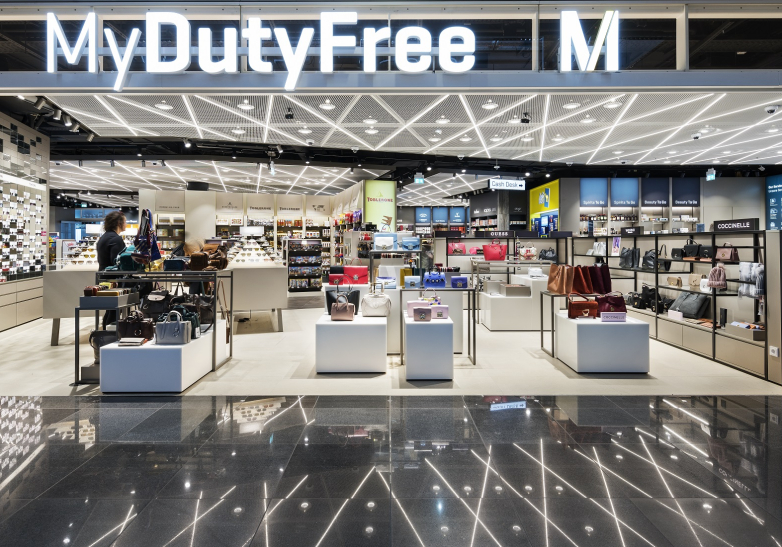 Eurotrade Munich Duty-Free. Copyright: umdasch
Read more about the importance of Travel Retail in the article "Making Airport Retail Fly High Again" by Mark Faithfull in our shops 151 magazine here.