Software Development
Individually programmed for your needs
The digital retail professionals at umdasch develop the software products you need - user-friendly and individual. Whether an easy-to-use interface for the management of digital signage content or the connection of electronic price labels (ESL) to your inventory management system. Our experienced team of software experts and programmers provide solutions that bring significant added value to your business operations.
umdasch eXperience platform
Flexibility - in many respects - is offered by the umdasch eXperience platform developed by umdasch Digital Retail. Independence from hardware products is guaranteed!
The umdasch eXperience platform works as an interface between inventory management systems, digital signage solutions, electronic price tags, apps for customer loyalty and IoT store furniture. Your advantage: error-free software that connects many data sources and combines them with hardware solutions from different manufacturers.
The umdasch eXperience platform, for example, enables the combination of ESLs from different manufacturers within a store as well as between stores. In combination with smart tracking or loyalty programmes, it also provides you with exciting data on the user behaviour of your customers. In this way, promotional content can be delivered precisely on different media and assortments can be optimised on an ongoing basis. A win-win situation for you as a retailer and for your customers!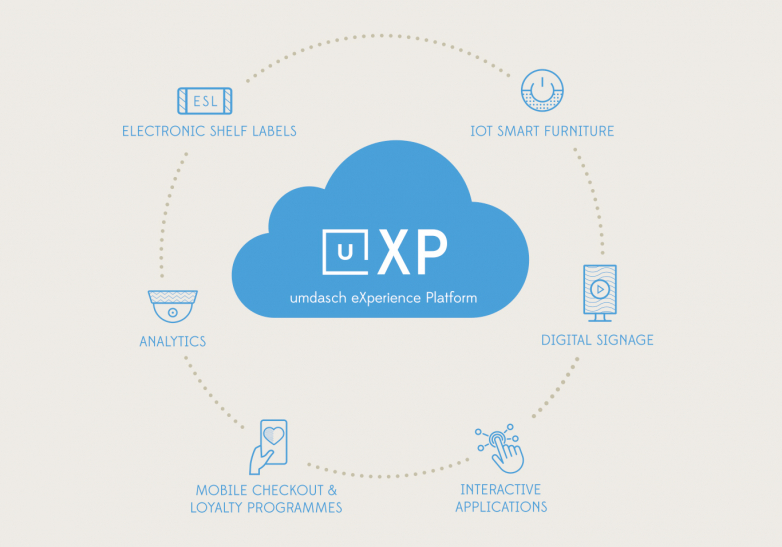 Digital signage is essential for a unique customer experience at the point of sale. With outstanding content, you can inspire your customers in the long term.
But how can you play digital advertisements in a simple and focused way for your target groups?
The Communication Butler from umdasch provides you with a user-friendly dashboard for controlling precisely targeted content on digital signage solutions. The Communication Butler is therefore ideally suited for companies that have a very high software diversity. It accesses and integrates different structures of individual software solutions.
Its simplicity of handling across the entire software landscape ensures a distinctive user experience. With standardised layouts and the possibility of preparing required functionalities, you always maintain an overview. This makes digital communication fun and creates real added value for your employees and your customers.