More than just a screen for stores
Whether it's for digital menu boards, mini signage for perfectly fitting advertising messages at the Point Of Sale, transparent show cases for highlighting product presentations, huge LCD and LED video walls or indoor and outdoor freestanding screens, umdasch can provide. umdasch works with you to develop a perfectly fitting digital signage strategy for your shop concept, taking care of the proceeding programming and assembling as requested. Not only for retailers: Use Corporate Communication for your company.
Digital Signage enables the display of moving images and dynamic content on screens. Whether on a single screen or in combination with several screens (multi screen), digital signage conveys contemporary messages and stages the experience space "shop". There are classic displays in all sizes throughout the shop, by the cash register or in the window display. The umdasch shopfitting professionals also offer LED walls, transparent screens or other technologies for visual support.

The display can be achieved by low-cost local players for small installations up to central CMS (Content Management Systems) to control all displays from the office. In addition to videos, images and real-time data, dynamic templates can also be created and automatically played out.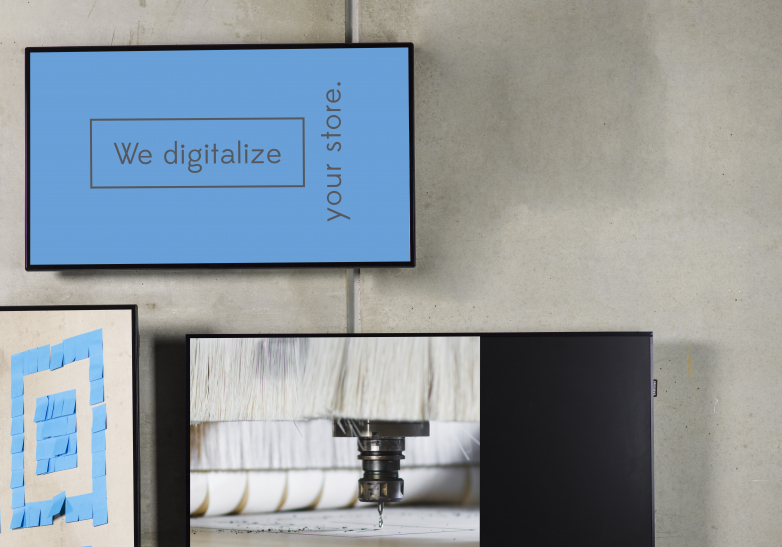 Indoor and Outdoor Freestanding Screens
These are a good way to elegantly provide free-standing digital signage solutions. umdasch integrates the screens professionally and precisely into the racks, so that easy maintenance is ensured for future use. With these digital signage solutions from umdasch, you can creatively communicate information about products, campaigns or your company to your target group already outside the shop.
Presentation of initial information outside the store
Different designs: Welcome Screen & Goodbye Screen
Weatherproof and waterproof
Operates continuously 24/7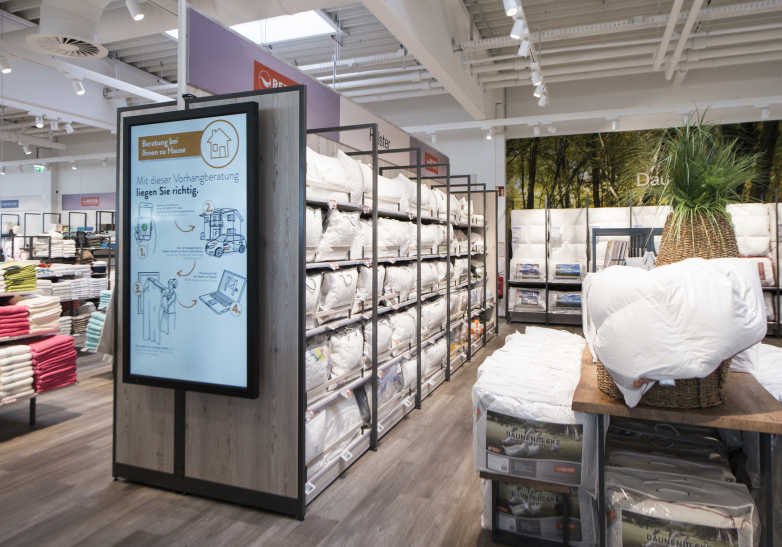 Where you had to make compromises with static solutions until now, you can easily display comprehensive offers in a visually appealing way by using umdasch's solutions for the catering industry. Use the time and weekday-altering function to display your menu with options such as breakfast or all-you-can-eat buffet. The screen changes are automatically transferred to the appearance you defined beforehand, maning a consistent brand appearance is guaranteed. With exciting possibilities, such as temperature-dependent suggestions, you can automatically generate additional sales; for example, advertising ice-cold drinks in strong heat.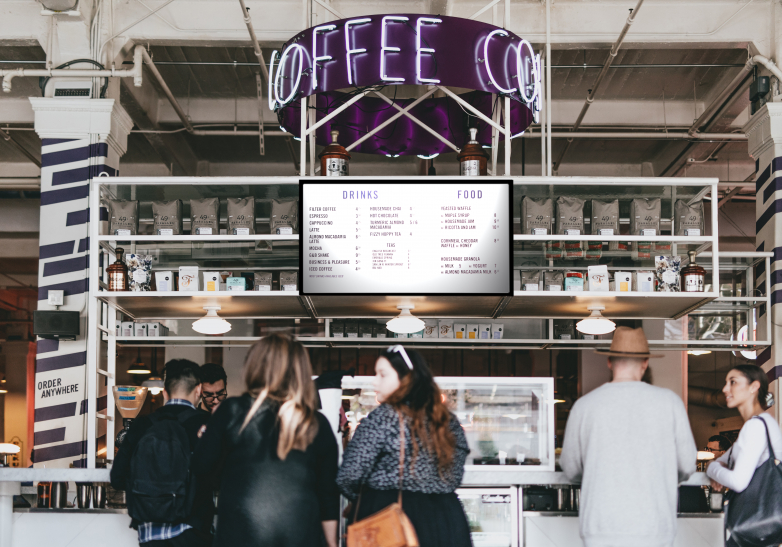 Video walls can be found everywhere today: in foyers, on exhibition stands, in conference rooms and as eye-catching installations in retail stores or shopping centres. Depending on the location, an individual selection of the optimal displays and the planning of a suitable substructure is necessary. umdasch has aquired a strong competency in the planning of custom-made products through many years of experience. We realise your ideas and put your ideas at the forefront of your viewers focus. We also support you in creating the content, because it must not only be vast, but also relevant.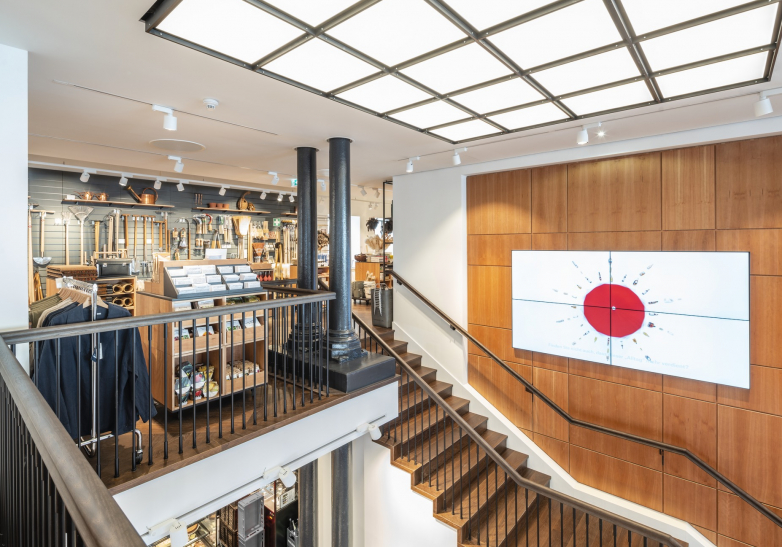 "Light attracts people" - moving image literally seduces them. As with the outdoor screens, the shop window screens are brightly illuminated ensure initial contact with customer. Take advantage of the opportunity to play on daytime, seasonal or weather-dependent content and guide people into your business.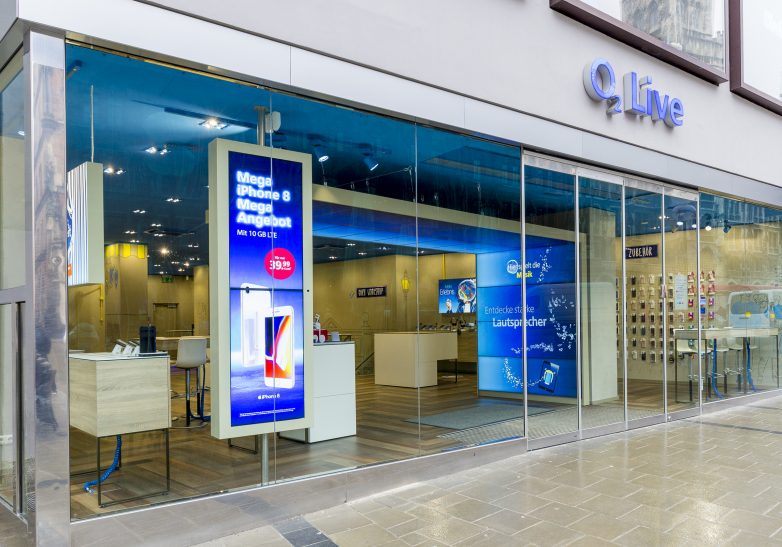 Digital signage also has many advantages outside of traditional retail spaces. This opens up new opportunities for successful employee communication for companies of all kinds. Improved knowledge management through attractively presented and easily accessible information increases employee motivation and involvement. Decide which content is relevant for which locations. Our systems broadcast the content onto all the relevant screens, modifying the look and feel to adhere to your corporate identity. The system broadcasts this to all screens, from the menu plan in the canteen, to company key figures in the foyer or image videos at the reception desk.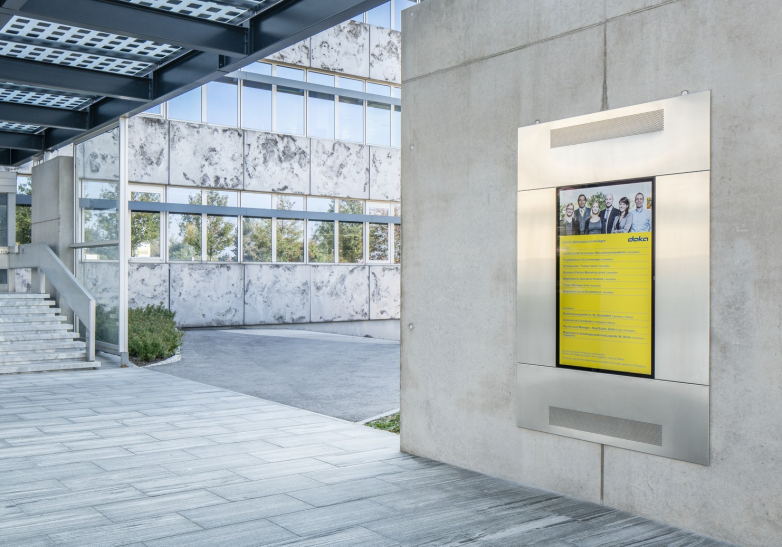 Maintain the content on your screens by yourself and improve the workflow with the clear interface of the content management system "Communication Butler".
Advantages
Uniform appearance
Freely configurable modules
Perfectly tailored to your requirements
You can find more information here.