Digital Signage
Digital storytelling in the store
Digital signage means a digital store experience, and this requires not only hardware but also an outstanding concept and a true masterpiece of content visualisation.
The digital retail professionals at umdasch are among the leading integrators in the digital signage market and will work with you to develop a digital concept that is a perfect fit for your brand and your store. Together we develop solutions that accompany your customer journey and integrate perfectly into the environment of the store.
In this way, we define with you whether classic digital signage, LCD or LED video walls, indoor or outdoor steles, customer flow management solutions or digital menu boards are the right tools for customer-centric communication at your point-of-sale. Join the professionals from umdasch on the journey into the digital age. Find examples of digital signage installations below and immerse yourself in the world of digital staging on the sales floor.
Storytelling doesn't get any better than this! Thrillingly staged video walls are more than just an eye-catcher in the stationary customer journey. They entertain, inform and inspire through a digital experience. Perfectly embedded in the dramaturgy of the store concept, these large-format digital signage installations inspire the customer experience.
The digital retail experts at umdasch not only support you in integrating them into the store concept - they also understand the technical requirements behind your digital signage projects. We consult your company on suitable substructures, possibilities of installation and integration into furniture, shop windows or promotional areas. With our Content Creation Team, we also support you in the creation of unique content. And with our customer service, we also support you in operational business.
Digital signage installations represent dynamic content. Whether on a single screen or in combination with several screens (multi screen), digital signage provides contemporary messages and stages your experience.
The digital retail experts at umdasch work together with you to identify which store areas - checkout zone, shop window, highlight zones - should experience a communicative upgrade by using digital signage. The dynamically controlled content can thus be communicated on classic screens, via LED walls, transparent screens, mirrored displays and many other technologies.
The content comes from local players in small installations or central content management systems (CMS) to control all displays from one office. Dynamic templates can be created for videos, images, real-time data and much more, which automatically play the corresponding messages.
Indoor and Outdoor Freestanding Screens
In constant use: The free-standing indoor and outdoor steles from umdasch are your sparring partner for individual communication with the customer - 24/7. Thanks to the possibility of double-sided screens, all customers in front of and inside the store are guaranteed to be addressed with your messages from both directions. This feature is particularly suitable for greetings and farewells - but there are no limits to creativity. You can use the weatherproof outdoor stele to refer to current topics and attract potential customers to your store with appropriate promotions. We take care of the rest: umdasch integrates the screens professionally and precisely into the frames so that easy maintenance is also ensured in the future.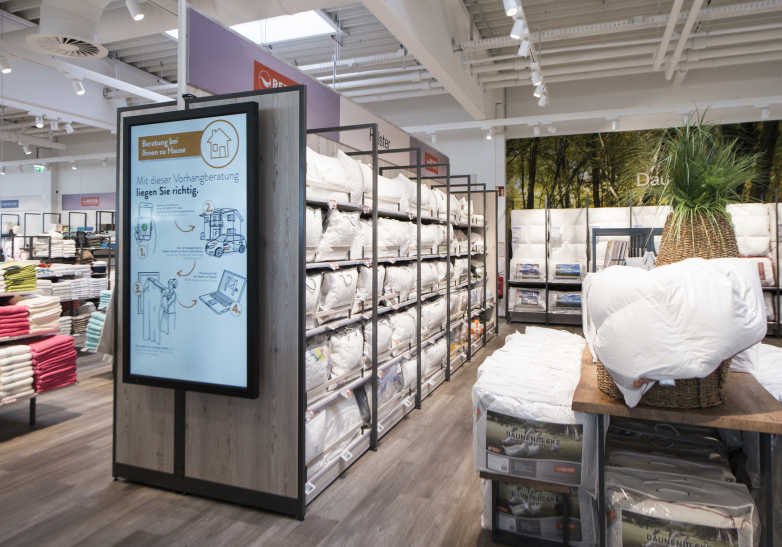 Consumers eat with their eyes, when a dish is viuslly appealing, it becomes more appetizing - profit from it! With our digital menu boards for the catering industry, you can easily display comprehensive offers in a visually appealing way, where you previously had to make compromises with static solutions. Use the display of your menu adapted to your offer times with options such as breakfast or all-you-can-eat buffet. Changes to the screen are automatically transferred to the template you have previously defined - a consistent brand appearance is guaranteed. Through exciting possibilities, such as temperature-dependent suggestions, you can automatically ensure additional sales on hot days with the promotion of iced drinks. Even manual changes with our user-friendly software take no longer than labelling a chalkboard by hand.
Please stop and take a look!
"Light attracts people" - moving images seduce them. Digital installations in shop windows are characterised by a particularly high light intensity. They resist all kinds of weather conditions and offer an ideal opportunity to establish initial contact with pedestrians, irrespective of the time of day, season or weather. Because action follows inspiration!
Do you want to reach all employees and workers with your internal communication? Or impress your guests with the latest news and image videos of your company? Use the advantages of digital signage that have proven themselves in retail spaces! Decide which content is relevant for which locations: individually designed templates display it in the look and feel of your corporate identity on all relevant screens - from the menu plan in the canteen to company key figures in the foyer or image videos at reception. With our intuitive content management system, your communication department will enjoy keeping the content up to date without much effort.
Easily maintain the content on your screens yourself and improve the workflow with the clear interface of the content management system "Communication Butler".
Advantages
Consistent appearance
Freely configurable modules
Perfectly tailored to your requirements
You can find more information here.