With far-sightedness and visionary thinking
As a company, Umdasch has existed for over 155 years. We may like to remember our past and be proud of this reliability and our corporate history. But 154 years also testify to our ability to change and our innovative skills.
Adapting, moving with the times and if necessary reinventing ourselves. The courage to make changes is called for and nowadays that is one of our strengths.
Our visions are our innovations. They reflect how we see our future and show at the same time the path we must follow with our customers in order to get there.
Innovation rate 2022
Compared with the total sales revenues, in 2022 the revenues from all our innovations represented some 16,1 percent.
Date: Business year 2022; applies to the Umdasch Group worldwide
Willingness to innovate 2022
Some 3,5 percent of revenues were invested in innovations during 2022.
Date: Business year 2022; applies to the Umdasch Group worldwide
Electronic price labelling
So far, the Store Makers have installed a total of over 5 million electronic price labels. This shows that digitalisation is booming in the retail sector!
Date: February 2023
Sustainable refilling
The umdasch Liquid Dispenser contributes to a reduction in waste and a sustainable future. So far over 210 refilling stations have been successfully sold in Europe.
Date: February 2022
Mmm, that smells so good! The umdasch Bake Off System
People do not only buy fresh, warm, fragrant baked goods when they are hungry – they buy them when they cannot resist doing so. Here the Store Makers have developed a new, patented solution: the Hot Bakery Box - Hot Tray.
Sustainability need not end at the self-service baked-goods station. With the help of integrated sensors and artificial intelligence, consumer behaviour is analysed according to time of day and the weather and then compared with the actual levels of goods available in the Bake Off System. This results in optimal baking and refilling schedules so that no rolls need be thrown away at the end of the day. Retailers can thus reduce their food waste, and customers can always enjoy fresh, warm and delicious baked goods at all times.
That makes the Bake Off System by umdasch both smart and sustainable.
Phygital is the new trend
Digitalisation is the new catch phrase that everyone is using. At umdasch it is a growing business area. "Phygital" is the fusion of physical reality and the digital world.
The concrete fields of application?
For example the umdasch eXperience Platform (uXP): A cloud-based software solution which manages, interconnects and analyses the digital touchpoints within a store and between branches. As a central interface, the uXP links the ERP system, digital signage elements, electronic price labels, apps for customer loyalty and IoT store furniture, and makes it easy for users to administer them all. Thus digitalisation is moving into every store.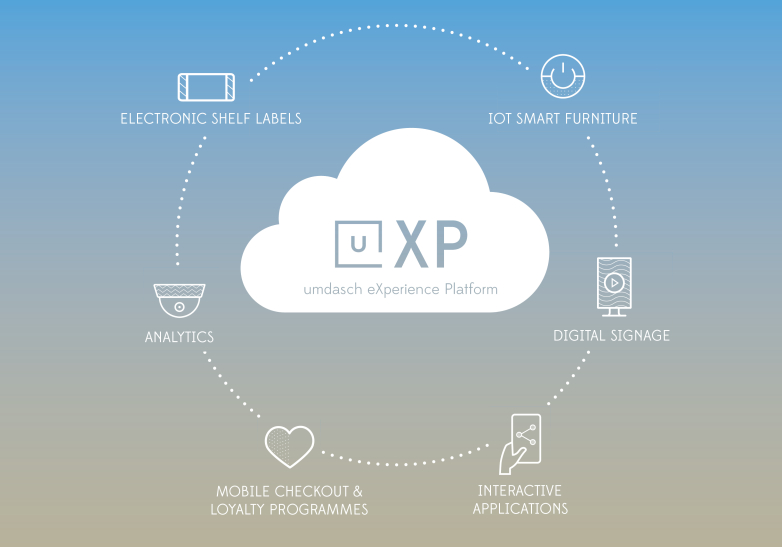 Save time with the mobile check-out
6 pm, you're hungry, the children are waiting and you just want to buy fresh vegetables for supper after work. You rush through the fruit and vegetables section and grab what you need. At the checkout you search for your purse and your stomach continues to rumble.
But there is an easier solution. It will transform shopping into an experience that you can enjoy once more.
Have you already heard of "Scan&Go"? You can simply scan your purchases, put them in the shopping trolley and at the end pay digitally via app as you leave the store. No more waiting at the checkout. Sounds rather odd? It's the future!
With the Scan&Go solution by our partner SHOPREME, the self-checkout has become reality.