Following our trend exploration to Paris earlier this week, we continued our journey across the Channel to London, UK. These two cities offer an abundance of inspiration for those in the travel, retail, design and architecture industries. If you´re interested in metropolitan cities, buzzing with history and commerce, these are the two cities you should visit first. Our London insider reveals some sneaky insights into the capital of England…
Let´s take trip across the Channel to London
Whether travelling for business, pleasure or simply passing through, London let´s never an explorer down. Representing multifaceted great British culture, London hosts culinary, tourist and retail attractions galore. The vibrant, multicultural city is steeped in history, making it a perfect destination for a city break, be it long or short. London based Exhibition and Display Designer Elizabeth Illing gave some sneaky insights into the secret spots around the city. If you´re looking for a bite to eat but aren´t quite sure what you want, she recommends you venture to Mercato Metropolitano, a surprisingly massive street food market hidden in a relatively uneventful area of South London. This little gem, says Illing "has amazing fresh pasta, burritos, gelato, pizza … the list goes on. There´s lots of different bars there including a really cosy wine bar and they host a bunch of different events and classes". Next stop on the London adventure line is the Sky Garden; the classy rooftop bar and restaurant with breath-taking skyline views of the city. You´ll have to book well in advance, as it´s so popular, "but if you want to see something memorable, the view from Sky Garden across to the Shard should do it!", Illing claims enthusiastically.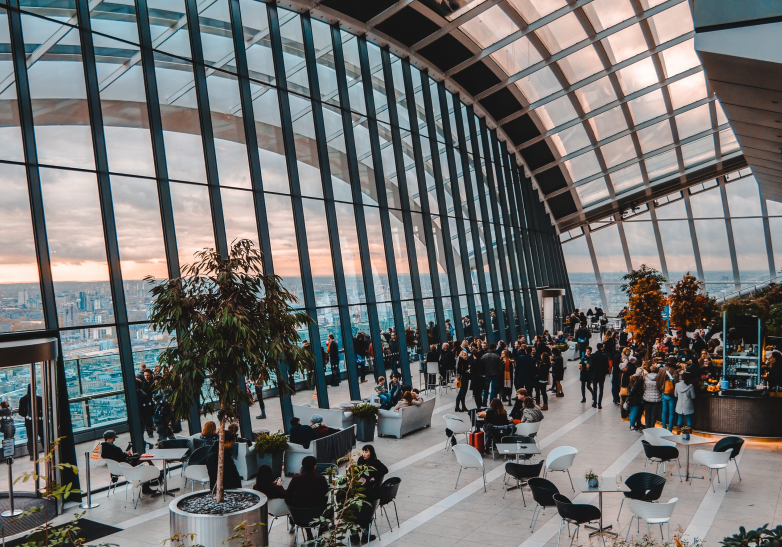 Sky Garden, London. Photo credit: Unsplash, Matthew Foulds
Drawing in countless tourists every year, Tate is an internationally acclaimed network of four art museums, housing the national collection of British art from 1500 to the present day as well as inspiring international modern and contemporary art. This British household name is just one of the must-see places to visit in London. One of these four museums is the Tate Modern. Located in the former Bankside Power Station, in the Bankside area of the London Borough of Southwark, it houses Britain´s gallery of international and modern art currently featuring exhibitions by Dorothea Tanning, Steve McQueen and many more unconventional, expressive and inspiring artists.
Take home a souvenir of your trip to the Tate Modern in the terrace shop, where all of the profit made plays a part in the ambitious programme of activities that the museum has to offer. Here, you can also appreciate the architecture of the old power station blended together with the interior design by architect duo Herzog & De Meuron and umdasch. In these three hundred square meters, temporary became the leitmotif, designing modular furniture that can be dismantled and reconfigured to suit the exhibits and events that Tate is housing at any one time.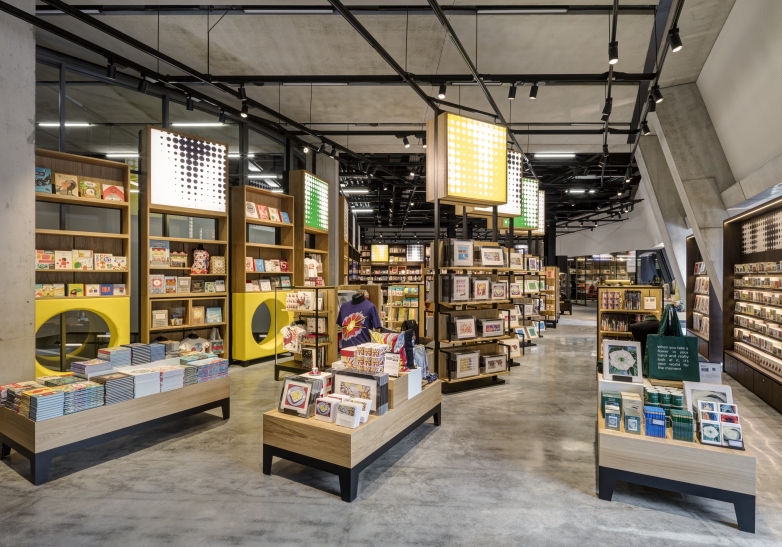 Tate Modern Shop. Shopfitting by umdasch. Photo credit: Ed Reeve
London Coal Drops Yard. Featuring FaceGym
Our London insider also pointed to the lesser known areas, ones only a local would know about. The recently renovated Coal Drops Yard was used to power the city of London in the 1850´s during the industrial revolution and the vestiges of its rich history are still visible everywhere today. The sixty-acre site is now a location where art, retail and gastronomy come together to serve the community. The COS store also exhibits artists work around the store. All the stores seem like specially curated versions for the location. If you need a respite from the buzz of the events going on at Coal Drops Yard, you can check out FaceGym; a store you can visit for a high-intensity sports massage that is importantly, non-intrusive and holds the secret to staying young! FaceGym´s uniqueness was reflected in the concept design with floor-to-ceiling mirrors on the walls in combination with fitted turn bars, making it look like the inside of a gym. These reflect the brand´s motto: a "workout for the face".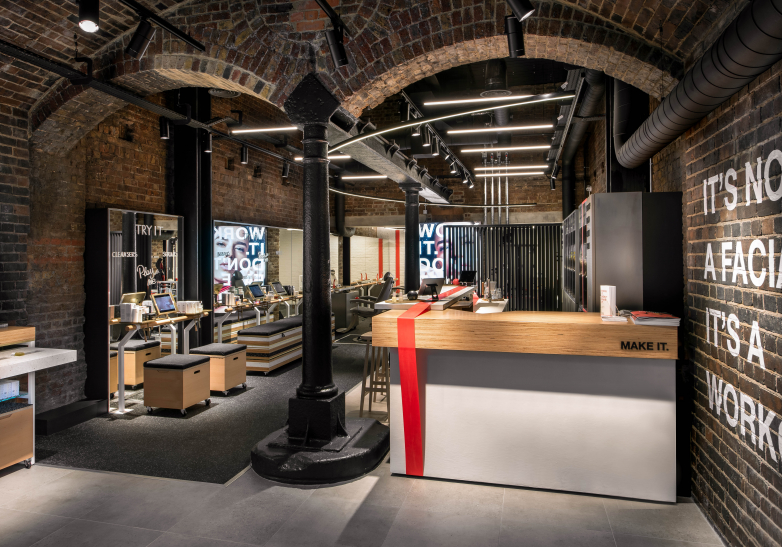 FaceGym in Coal Drops Yard London. Shopfitting by umdasch.
Inspiration can be booked!


If you would like to compare who you think deserves the title "Europe's No. 1 Trend Metropolis", then join us from May 12-16, 2019 May from Paris to London. More information can be found here: www.umdasch-shop-academy.com
Stay tuned for more insider looks on trendy places across the globe. Where shall we go next?