Smart Tracking
Perfect access control for every requirement
Under the generic term Smart Tracking, umdasch provides solutions for cutting-edge topics such as Entrance Control, Customer Flow Management (Queue Mgmt), Loitering, Audience Measurement, People Counting and Heatmapping. With the umdasch traffic light systems - more important than ever in COVID times - the optimal control of customer flows is achieved. By means of a striking design, you can guarantee the safe distance and controlled entry of your customers on site. The traffic light systems are the result of close monitoring of procedures and shopping processes in a time of maximum preventive measures at the POS. The corresponding systems were developed to offer the perfect solution for every requirement in the long term. If individual solutions are necessary due to structural conditions such as multiple entrances and exits, we will be happy to work out these together with you.
Always keep track of the specific number of your customers in order to fulfil specified regulations. The Hygiene Station combines all mandatory requirements for shops (disinfectant, wipe and mask dispensers) with the possibility of customer flow management. The integrated high-end counting system guarantees 95% accuracy compared to light barriers. Thanks to the particularly wide counting range and several built-in sensors, people entering at the same time are precisely detected and counted individually. In addition to access control, hygiene recommendations can also be played on the split screen. The station can be used in both online and offline mode. Setting up the system is simple and flexible - the station is installed by you and started up remotely by umdasch. This enables remote maintenance and monitoring during operation.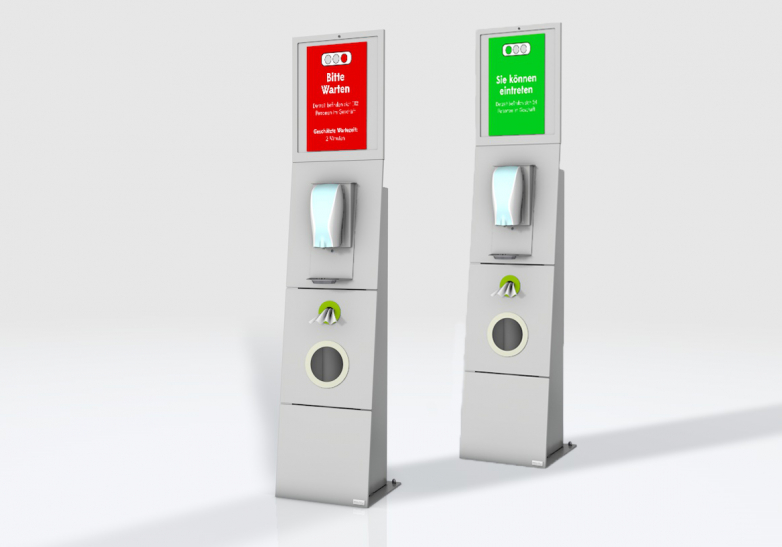 Stop-and-go discreetly controlled - The Customer Stopper is flexible and practical to use. Through the precise use of several sensors and a maximum width of 4.6 m - 6.5 m, a counting accuracy of 99 % can be achieved even in larger entrance areas. The display of the Customer Stopper can be set up away from the counting line and optionally equipped with a rechargeable battery. The Customer Stopper can be used both in online and offline operation. The set-up is just as simple and flexible - the stopper is assembled by you and put into operation remotely by umdasch experts. The USP of the Customer Stopper - it is small and discreet but still has a large display area.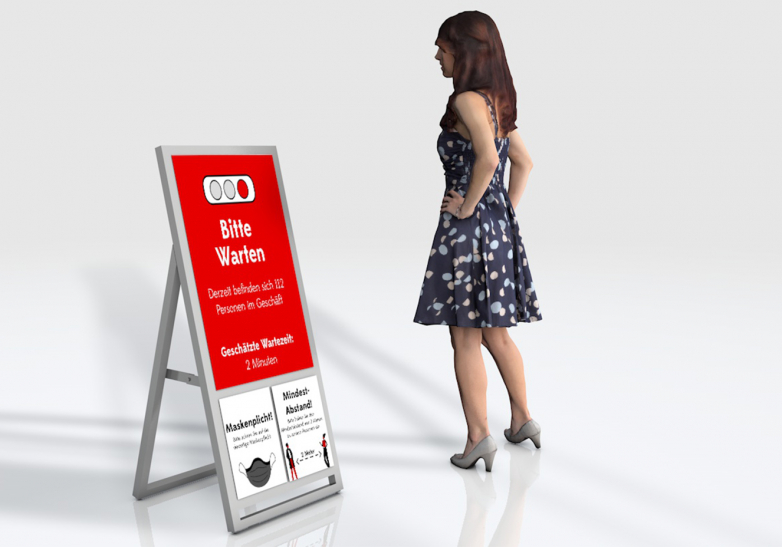 The customer flow management as an overhead variant offers a counting accuracy of 99 % due to its wide covered area (4.6 m - 6.5 m counting line) and the modern counting system. This means that all access regulations can be followed exactly, even if several people enter next to each other. By using multiple sensors, separate counting areas can be easily defined. The contents of the display can also be played back in online and offline mode. A split screen function allows hygiene recommendations and access restrictions to be played simultaneously.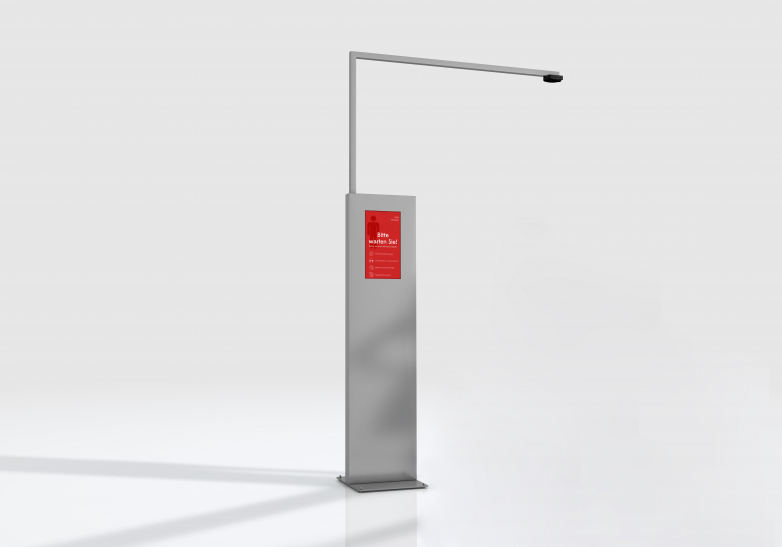 Display of the traffic light system (green & red) on the screen
Full-screen or split-screen display option
Possibility to enter individual messages
Individual setting of the number of customers in the store
Day-by-day input option for opening hours with individual behaviour
Service engineer via remote maintenance
Due to the independent GSM module, integration into the company network is not necessary
Individual branding possible
Upload of statistical data for reporting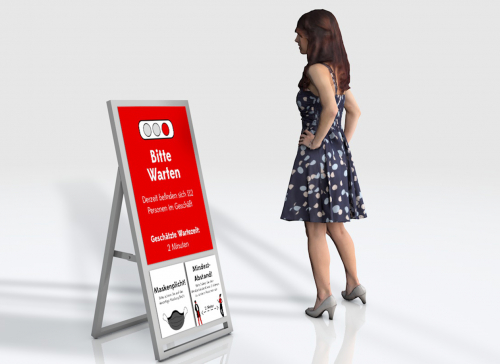 Customer Flow Management Brochure
Find all technical details and prices for the umdasch customer flow management solution in the brochure.