Modern employee supply at umdasch
Smart All-In-Box at the Leibnitz site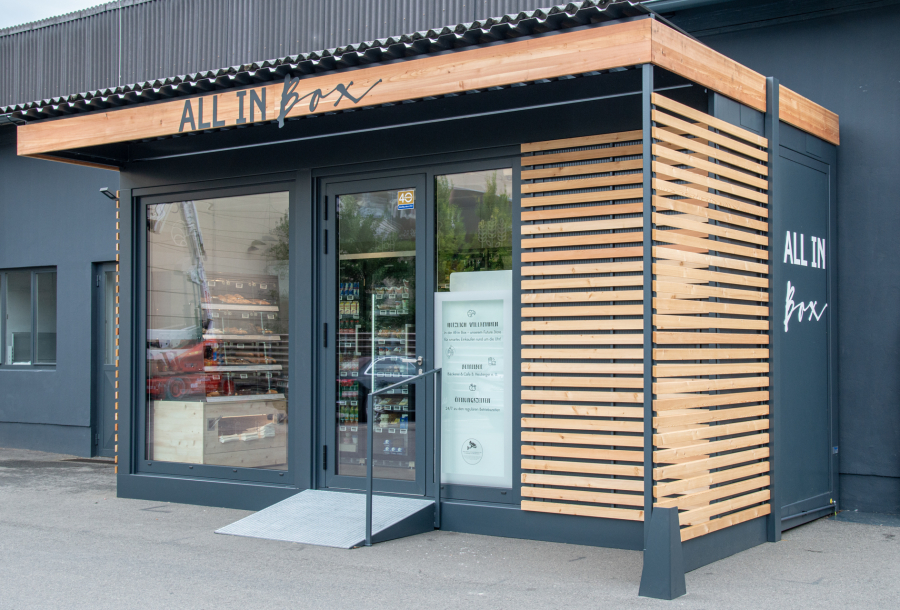 Press
Shopping around the clock and paying easily in cash or by card? This is now possible at umdasch The Store Makers in Leibnitz. The smart box solution in the inner courtyard of the company is stocked by the operator, the bakery B. Heuberger, with snacks for the employees, but also with articles for daily needs. The assortment is primarily obtained from suppliers from the region.
Innovative shopfitting solutions made by umdasch
As a holistic partner for innovative shopfitting, umdasch The Store Makers is intensively involved with shop and payment solutions of the future. Numerous technologies and services developed by umdasch are used in the All-In-Box. Electronic shelf labelling is used instead of conventional price tags and enables quick and easy adjustment of product details and prices. The multi-award-winning Liquid Dispenser also finds a place in the All-In-Box and, as a refilling station for washing and dishwashing detergent, helps employees to save on plastic waste together. Payment is quick and easy in cash or by card via the Ackerpay terminal, which guides the customer audiovisually through the payment process. Lighting, air conditioning, video surveillance and the locking system can be controlled centrally via smart home technologies.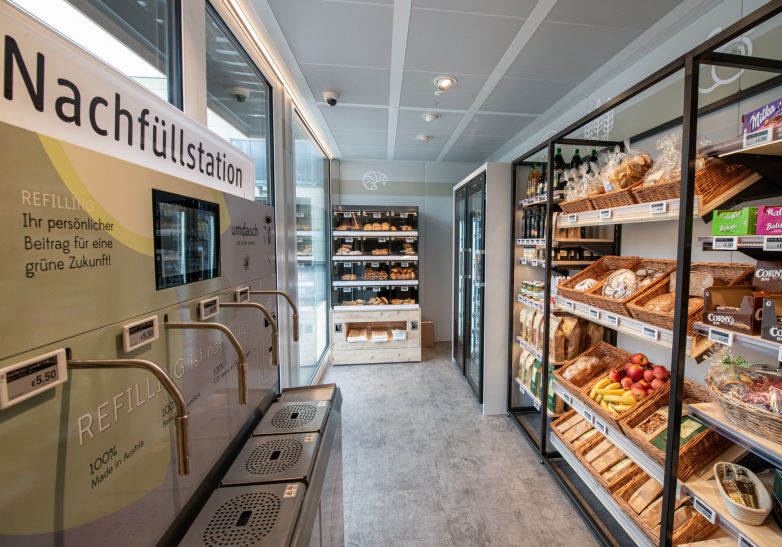 Box solution as prototype for smart stores
In cooperation with Umdasch Group Ventures and Ackerpay from myAcker GmbH, umdasch built its first prototype of an "unmanned store", i.e. a shop without staff, with the All-In-Box in Leibnitz. The shopfitter offers the mini-store as an individual overall solution – from design and digital concept to project management and shopfitting including digital equipment. All project components are coordinated by the Store Makers and come from a single source, so to speak. The concept can also be transferred to other areas – a box is not absolutely necessary. Gerold Knapitsch, Managing Director at umdasch Food Retail in Leibnitz, is enthusiastic about the numerous advantages of the box solution: "Self-service boxes are a big trend that we are working on intensively. The All-In-Box serves us as a prototype to test new technologies and at the same time as a showcase to demonstrate our product portfolio to customers in a real environment. Of course, we see the most important advantage in the fact that we can supply our employees at the Leibnitz site in the most modern way with the help of the box."