Store solutions for petrol stations I: More agility and advertising revenue with Digital Signage and Electronic Shelf Labeling.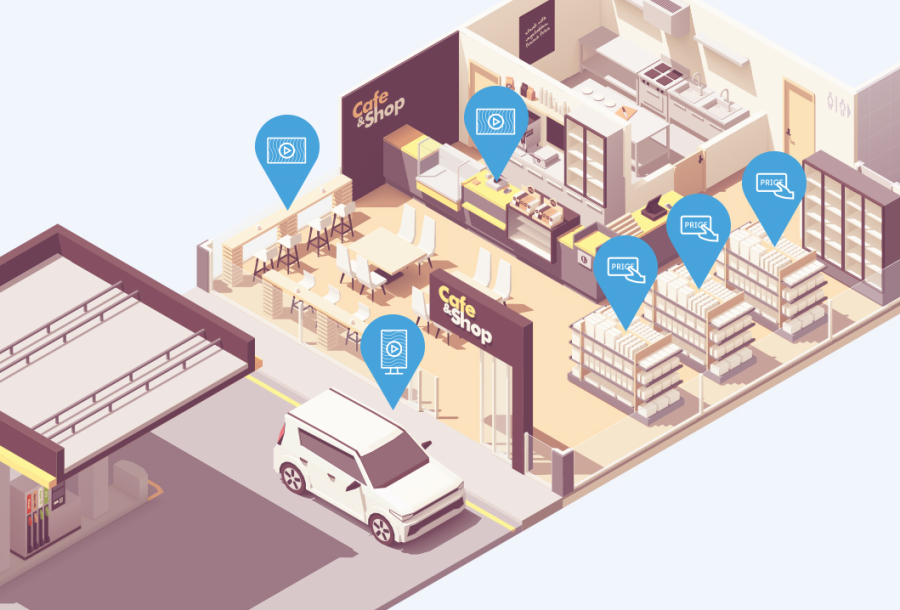 Trend
Whether as a place to cool down on the road or as the first or even only port of call for spontaneous purchases outside of usual opening hours. Petrol station shops offer many practical advantages and are therefore very popular with consumers. Many people now shop regularly in the compact stores. For petrol station operators, this means an intensive examination of their own pricing and product range as well as in-store promotion. The question quickly arises as to how a branch network can be efficiently managed in this respect. A well-considered digital concept and the targeted use of digital point-of-sale solutions provide an automated remedy.
Thanks to dynamic content, Digital Signage (DS) attracts attention in every store. The areas of application are quite versatile: whether with a single, cleverly placed screen ( Single Screen) or as a combination with several screens ( Multi Screen). Depending on the store area, different messages are transmitted via the screens in petrol station shops, which creates specific zones.
The digital retail experts at umdasch The Store Makers are among the leading integrators in the Digital Signage market and develop a customised digital concept for each shop.
In this way, they work out in which store areas - indoors and outdoors - the use of a DS solution offers added value and generates the greatest possible communicative benefit: In the bistro area, for example, current product prices can be digitally displayed in high-resolution quality. In the checkout area, targeted product advertising can be combined with dynamic content above an often existing tobacco product shelf, and daily promotions for car washes can also be communicated via screens in the checkout area or through the store window.
In the entrance or outdoor area of a petrol station, the use of weather-resistant Digital Signage solutions also offers an eye-catching opportunity to present content regardless of the weather and season as well as the time of day and opening hours. The Store Makers from umdasch offer additional flexibility in placement with the individual production of the screen housings.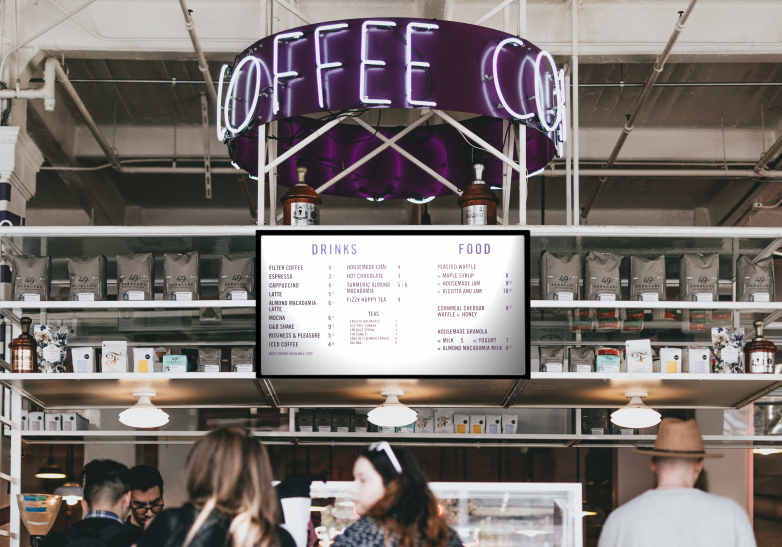 Simple and effective presentation
The ease of use and handling of the DS solution offers enormous added value for petrol station operators. Petrol station tenants and staff can adapt content in seconds, regardless of the screen format, thus avoiding the compromises and restrictions that are inevitable with static media such as posters or simple printouts.
But how can digital advertising messages be played effortlessly and with a focus on the target group? Content is controlled via local players or a central Content Management System (CMS). With the help of prefabricated templates, content is integrated into a defined design - such as that of the franchisor. Franchisees can easily access the CMS via a dealer app. Local franchise partners are thus enabled to book promotions, maintain prices and create local content easily and without prior knowledge in a predefined layout.
Especially in rollout projects that cover a wide-ranging network of petrol stations, a consistent quality of visual content can be guaranteed across all branches. Helpful functions, such as the display of temperature-dependent product suggestions, set the sales focus on chilled drinks via the screens on particularly hot summer days and thus trigger additional sales in a fully automated manner.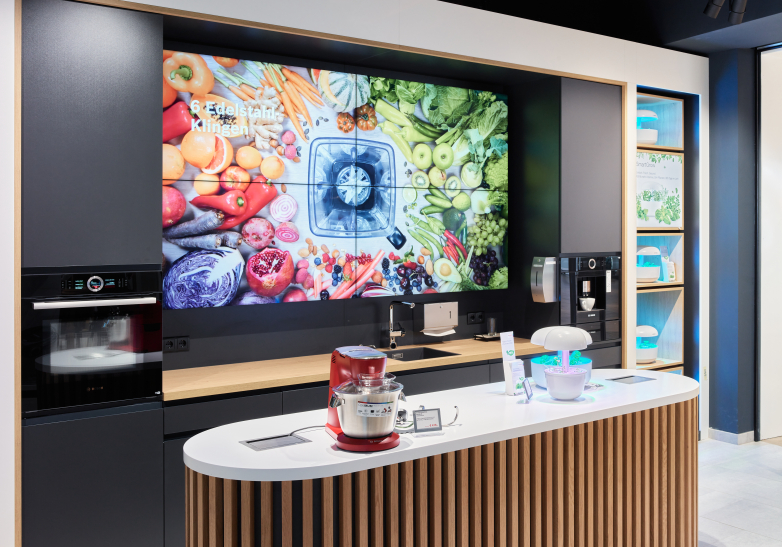 The right price at the right time
Lightning-fast adjustment is an effective advantage, especially in pricing. Particularly in petrol station shops, which offer high added value for consumers thanks to flexible shopping options, situational price adjustment makes more than sense and represents an incredibly profitable solution for petrol station operators. With the use of Electronic Shelf Labeling, changes can be made within a store, but also across stores, locally to globally, within a few seconds and at the touch of a button.
Thanks to modern E-Ink technology, which is also used in e-book readers, a high-contrast display with black, white, red and yellow pixels is possible. Even more diverse possibilities in design and for enhancing the customer experience in the shop result from the integration of small full-colour LCD screens - optionally also with touch function.
The digital labels can be attached to almost any existing shelving system. For even faster and easier installation, the Store Makers from umdasch have developed a matching rail that features a seamless flush transition to the shelf. This makes more space available on the shelf and simplifies the placement and removal of goods.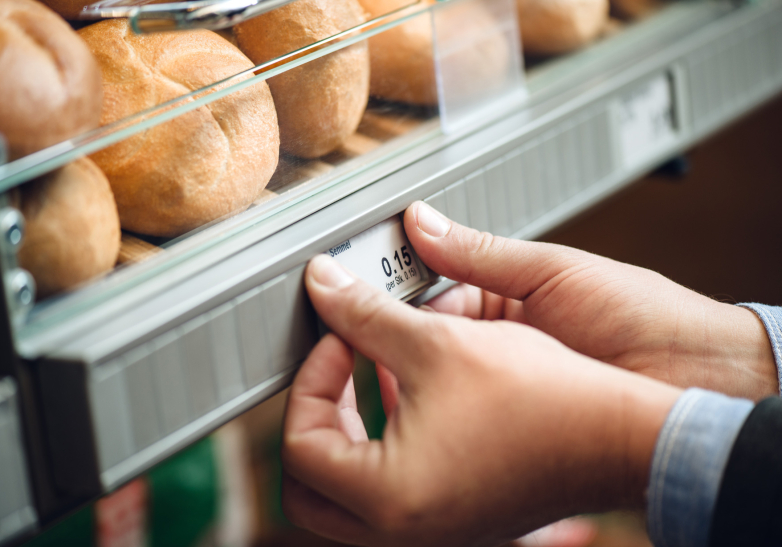 Smart connection enables a look behind the scenes
The umdasch eXperience Platform (uXP) developed by umdasch Digital Retail offers flexibility in many respects. This functions as an interface between the merchandise management system, Digital Signage solutions, Electronic Price Labelling as well as apps for customer loyalty. As a cloud-based web platform, it can be accessed from anywhere at any time and enables the viewing and live analysis of a wide range of data from every connected store.
By using smart tracking, individual persons as well as entire groups of persons can be analysed, which ultimately enables target-group-optimised playout of promotional content and product recommendations, as well as customised product range optimisation.
Thanks to smart networking in the shop, the full digital potential can be exploited. In combination with electronic price tags and Digital Signage, a digital dream team is created that reacts fully automatically to situations such as the weather or arriving groups of people and adjusts content and prices accordingly in a matter of seconds.