Miami
Retail & Architecture with Cuban Flair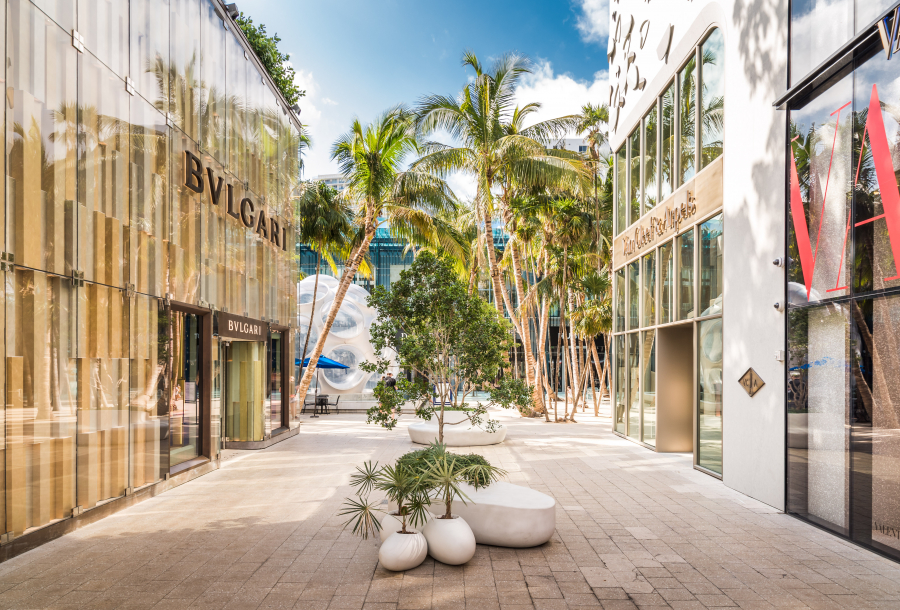 Trend
Continuing our trend tour of Miami, Florida, we venture from the beautiful beaches to the downtown areas, searching for the best cultural gems. Known as the "Capital of Latin America", due to the high population of Spanish-speakers, the city holds a rich heritage mixed together with a Caribbean zest. From the downtown neighbourhood of Little Haiti, to the caffeinated energy of Little Havana and the eye candy of the Art Deco district, there is much to discover. We explore the colourful street life, full of authentic Cuban restaurants, museums, theatres, bars and art galleries alongside the modern points of interest setting trends world-wide.
The modern day city of Miami is a reflection of historic events, shown most evidently through the diversity of its population. At current, there are an estimated 1.2 million Cubans living in the city of Miami, many of whom immigrated to Miami after Fidel Castro came into power in 1959 or in a wave of immigration in 1980. These events and people shaped the culture of the city into what it is today – a vibrant hub of salsa dancing, festivals and mouth-watering cuisine.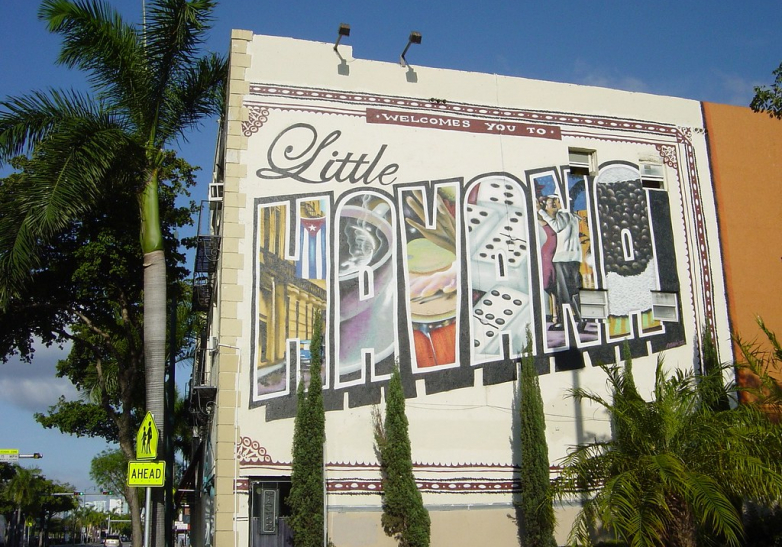 ©rutiful. Little Havana, Miami
Miami is a hot spot for retail with various neighbourhoods offering a variety retail options. The Design District is a neighbourhood dedicated to innovative fashion, design and architecture. Here, shoppers can find their heart's desires in Dolce & Gabanna, Tom Ford, Dior and Bvlgari to name a few. The district accommodates shoppers desire for the full retail experience with the Bal Harbor Shops. Found in the northern tip of Miami Beach, the central court is filled with a green tropical garden and a luxury selection of cafés and sensual art. The Loewe store is a must-see here, built in a cathedral-esque shape.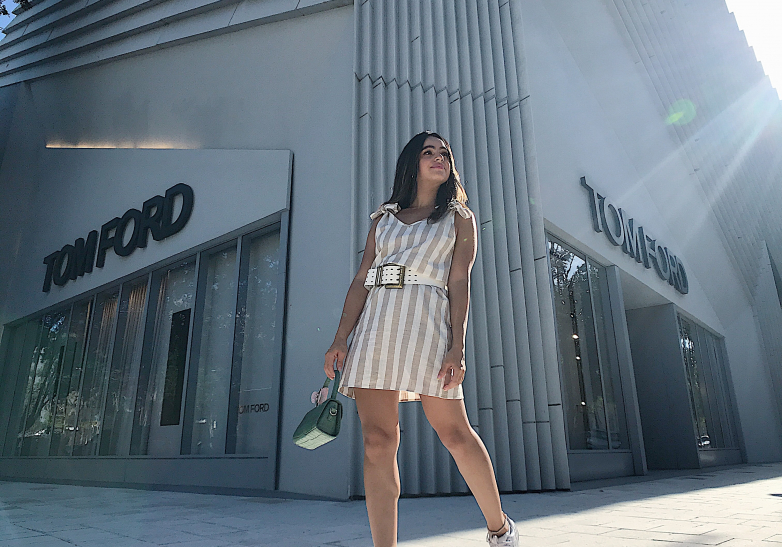 ©juno-jo. Tom Ford. Miami Designer District
If the name of this neighbourhood doesn't tell all, this tropical oasis is a quaint neighbourhood located in the middle of Miami, yet it takes a step back from the stress of the city life. The warm, laid-back atmosphere with a bohemian style has its own charming array of boutiques, gourmet restaurants, art galleries and harbours. Known for its parades and art festivals, this is a lesser known cultural hot spot popular with both locals and visitors. As the area rises in popularity and retail needs rise, two malls have been built: Mayfair and Cocowalk. Developers are hot on the tails of the neighbourhood, so if your're looking for a well invested and vibrant retail destination with a quirky twist, this is the cultural gem you're looking for.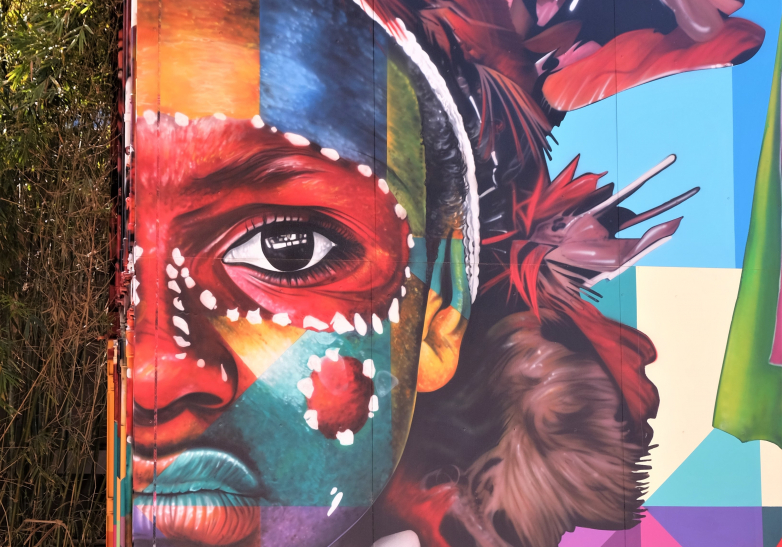 ©bruce-warrington. Miami Street Art.
Florida does not fail to entertain! Just a stone's throw from Miami, down the beach, explorers are confronted with of a ginormous 400-foot tall hotel, which is currently under construction. Architectural designers broke convention here, building it in the shape of guitar. That's right, in the shape of a guitar! Our colleagues from DOKA, part of the umdasch Group, were responsible for the framework of the 1.5 billion dollar worth building. The building is also home to an array of shops, fulfilling your retail needs. The brand's signature Rock Shop is an exclusive store experience like a VIP tour for a fan, with a diverse collection of products and music memorabilia and special items unique to the location, bringing the vibrant culture of Florida into the store. As the world's first guitar shaped hotel, it is the definition of a trend setter.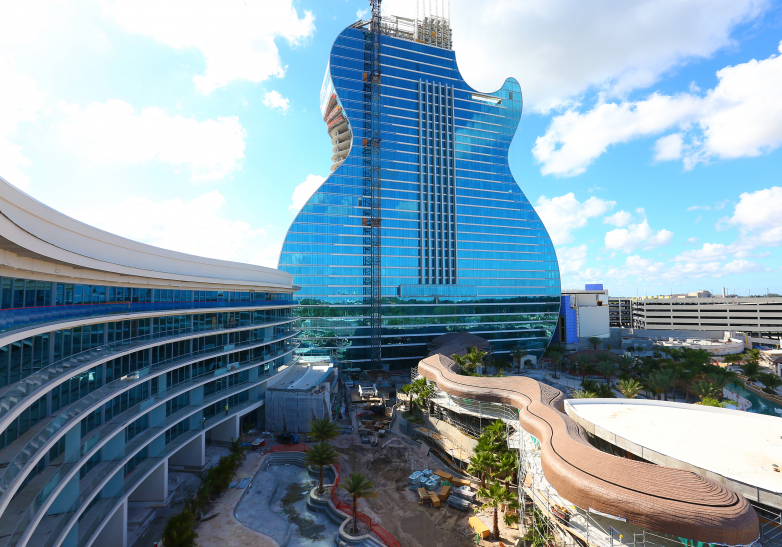 ©Seminole Hard Rock Hotel & Casino Hollywood.
Inspiration can be booked!
If you would like to explore Miami yourself or as part of a group, then join us from 10th to 14th November 2019 on an guided tour of the city with our Shop Academy (tours only in German language). Registration Deadline: 7th October 2019. The tour will specifically be looking at the theatrical composition of stores, tapping into all the senses of the participants. Guided by Christian Mikunda (founder of the dramaturgy theory) and Denise Mikunda-Schulz, participants explore how they use dramaturgy to lure in, retain and inspire visitors. More information can be found here: here.


We will visit flagship stores and concept stores, malls and urban design, explore hypnotically staged hotels and bars, and perhaps see something historical and something dangerous: pure joie de vivre refined with art. Miami's stores use artworks as art priming, as pre-staged experiences around fashion, furniture, shoes. Dior's store, created by Peter Marino, who himself lives in Miami and is regarded as the world's most important director of luxury shops, were created around the Design District. This district holds a host of inspiring architecture, art and design. Parking garages have concept stores and shrill facades turn them into spectacular works of art themselves. Urban design transforms one street into a sequence of chill oases, with water and plant designs and another street into an open-air gallery surrounding fashion shops.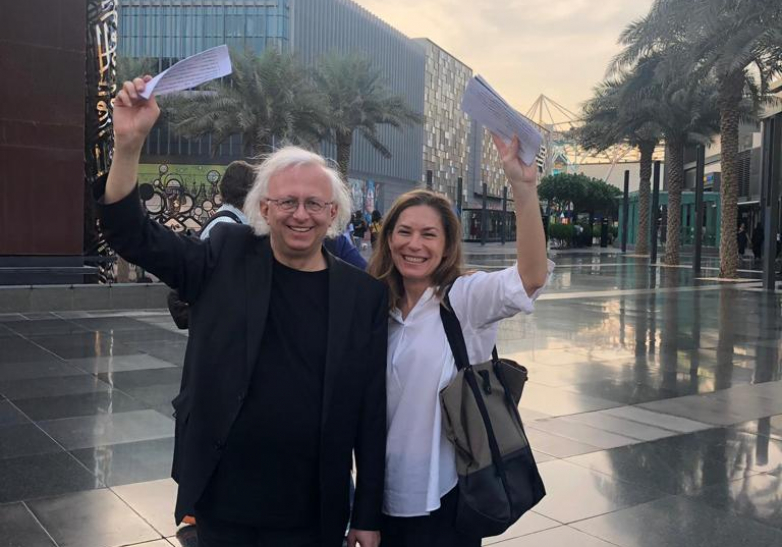 Christian Mikunda und Denise Mikunda-Schulz
Stay tuned for more insider looks on trendy places across the globe. Where should The Store Makers go next? New York perhaps?!