With a flash the New CALUMET Store in Frankfurt opens!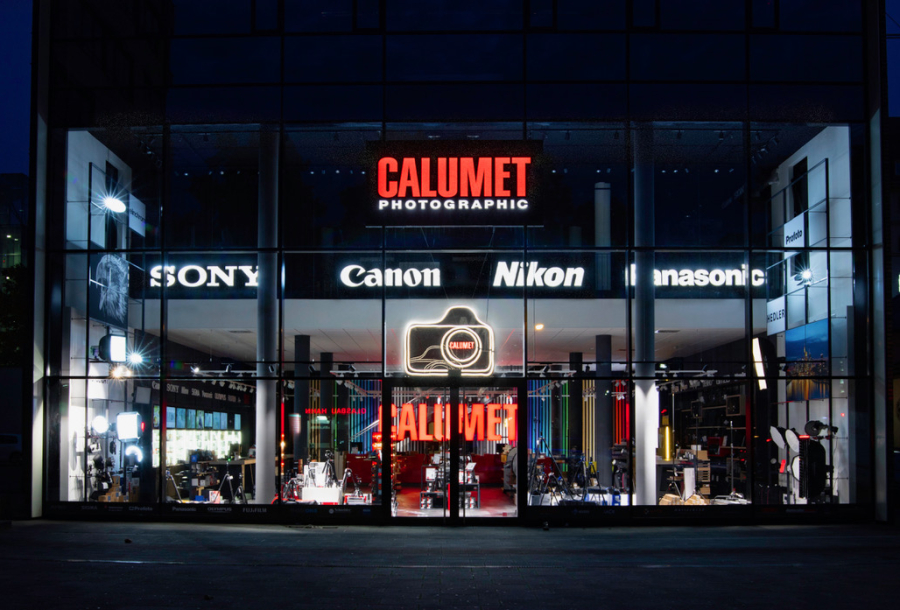 Press
CALUMET - the lettering on the back wall of the new store at Schwedlerstraße 8 in Frankfurt shines in large red letters and is visible right up to the entrance area, where it draws in all onlookers. The store opened in mid-June, where the umdasch store makers have created a concept on more than 800 m2 over two floors that focuses on the "photography" experience.
Even from the outside, the shop forms a photogenic impression. Behind the glass facade in the gallery hangs a huge, artificial camera, which is skilfully outlined by numerous LEDs. On entering the store, a white lettering on the floor guides the visitor through the entire range directly to the world of experience on the first floor, where customers can experience the products live.
© Calumet
Here is a separate room for workshops, and the equipment can also be tried out in the "Sony Alpha Experience Area" in a natural setting in the form of a hip loft. In addition, the Bokeh/Lowlight area invites visitors to play with different brightness levels and test the cameras under these special conditions.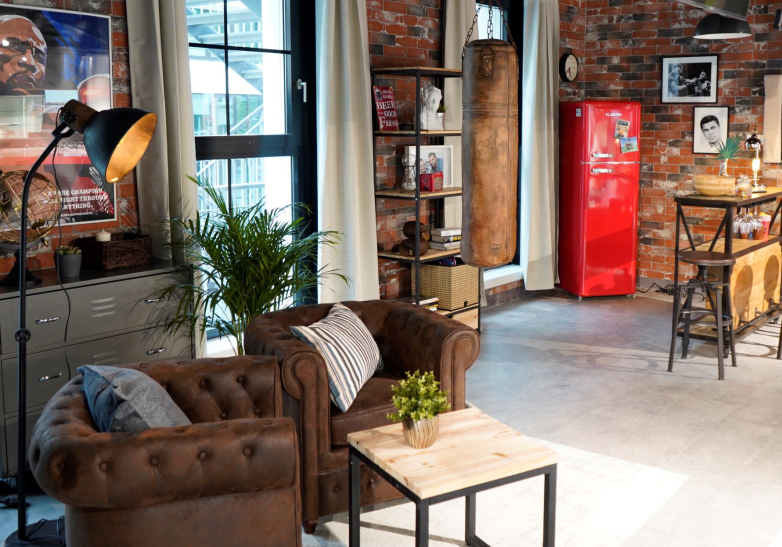 © Calumet
The shopfitting is simple and solid. Matt black steel frames and surfaces in grey beech wood look, in between high-gloss painted highlight zones in Calumet red amplify this theme. The checkout counter offers such an eye-catcher. The back walls on the ground and upper floors are equipped with photo-backgrounds in the entire colour spectrum. A gigantic play of colours is spread across the back wall of the shop.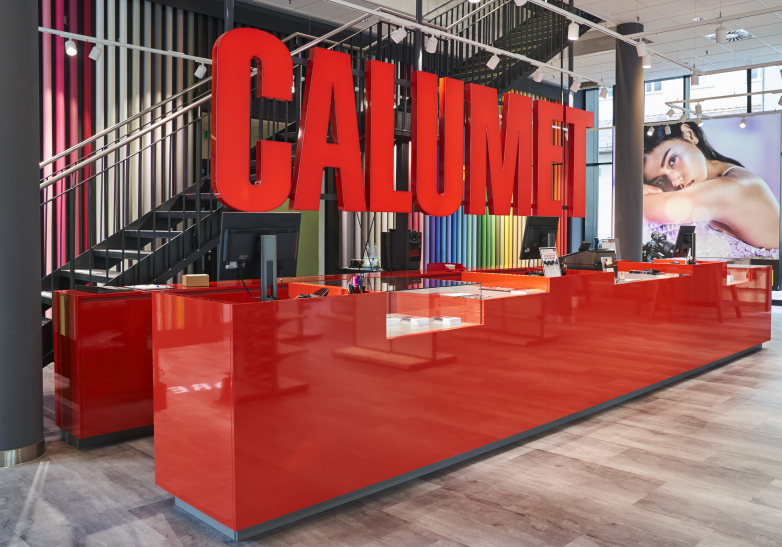 © Calumet
In between, printed canvases show first-class snapshots on the sales area, all around numerous photo screens and lighting fixtures decorate the walls as visual merchandising and equally, as sales goods.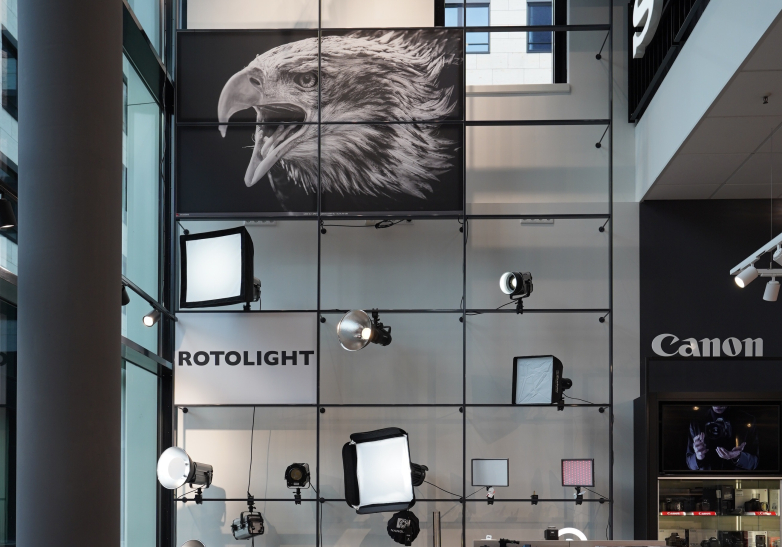 © Calumet
umdasch The Store Makers was responsible for the unusual concept and shop design. "We wanted to design a store that reflected the subject of photography in its entirety and provided customers with optimal orientation," explains Maik Drewitz, Shop Consult Director umdasch, the idea behind the concept.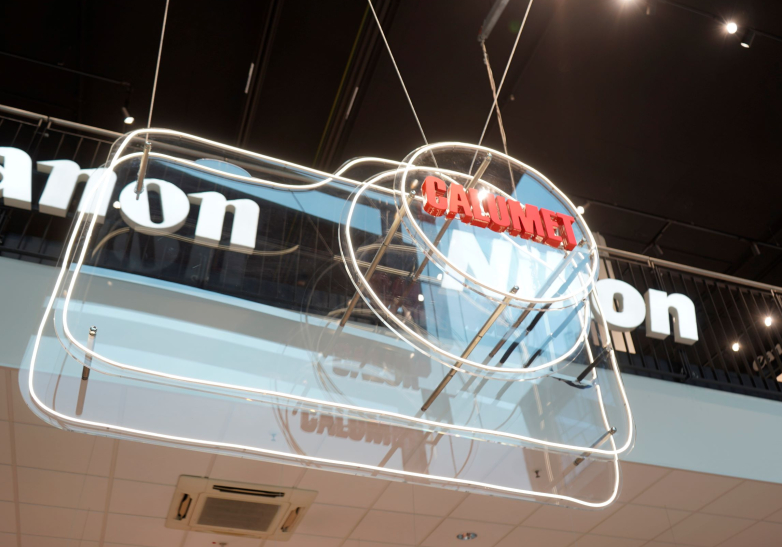 © Calumet
The concept was also very well received at Calumet. Richard Glatzel, Managing Director of Calumet, praised the outstanding cooperation with umdasch and was delighted with the sensational response from the industry and the customers.Andrè Spang, the new division manager of umdasch Lifestyle Retail, was also present at the opening: "Our cooperation with Calumet in Frankfurt shows how stationary retailing works today: an environment full of experiences, perceptible brands and customer-oriented service."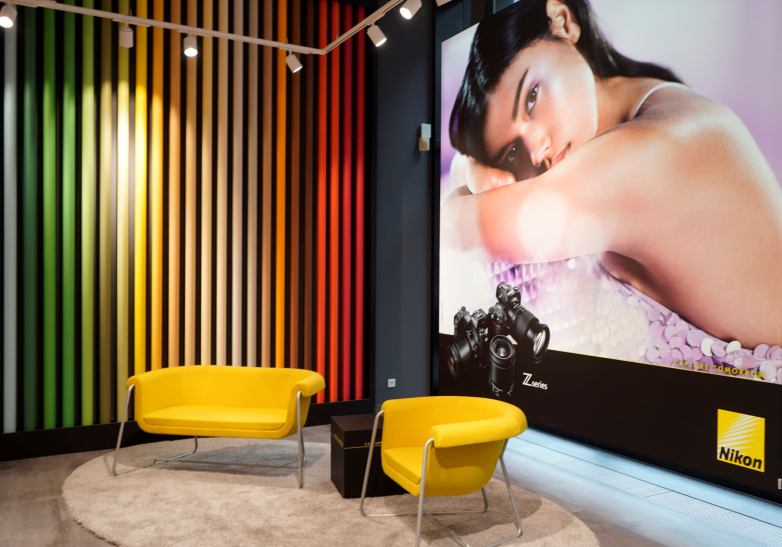 © Calumet