Trend Accelerator Corona, part I: The New Normality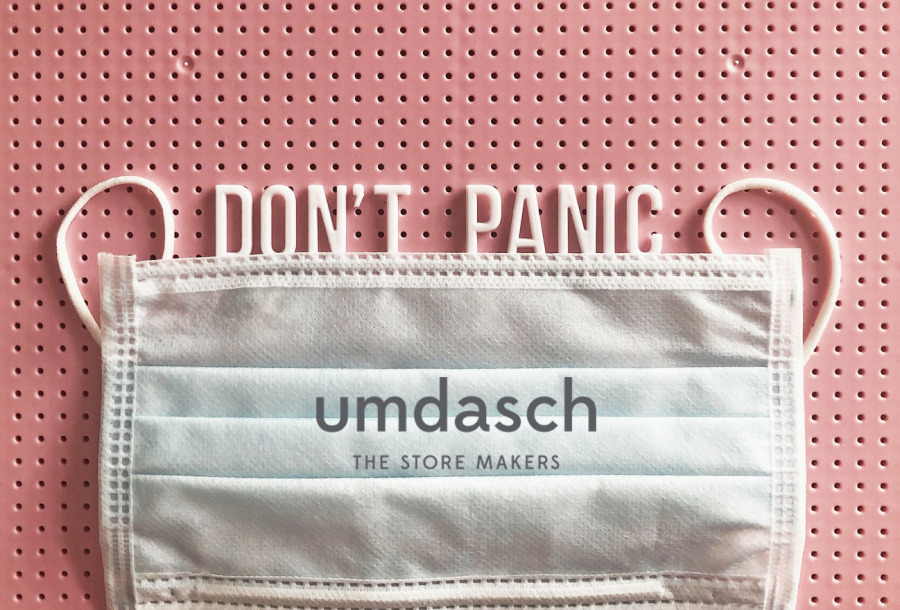 Trend
What kind of experience are consumers looking for today? How important is the digital world? Is sustainability still relevant?In our new series "Trend Accelerator Corona" we shall be presenting you with the effects that the past months will have on the retail sector in the long term. Each week an expert from umdasch will be supplying some germ-free insider gossip from his specialist field. Silvio Kirchmair, CEO umdasch The Store Makers, provides the starting point with a general overview.
Mr Kirchmair, what has been your personal experience of the past months?
At the beginning, the events were a huge shock for us as a company. We saw that all our markets can suffer enormous damage – all at the same time. Our mood was very pessimistic, especially in the middle of March.
In the weeks that followed we had time to do our homework and to prepare for the future. We discovered that retailers were shifting their priorities and value assessments. When things are going well for everyone, there is little willingness to change – in crises people are considerably more prepared to do so.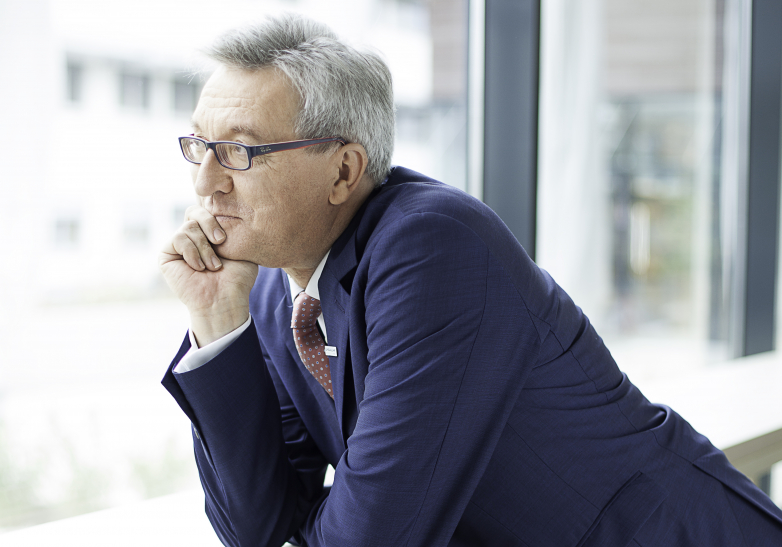 We realised relatively quickly that our wide-ranging portfolio of sectors and skills is immensely important for umdasch The Store Makers in challenging times. Four months after the beginning of the lockdown in Europe, we are pleased that our customers value our strengths more than ever.
The agility of our teams at umdasch that can pack a punch has not only impressed me tremendously. Within a very short space of time we have developed new products, such as the Hygiene Stations, digital Customer Flow Management systems as well as the UV-C Fitting Room and have responded very rapidly to changes in demand. We have even had to increase the number of staff in our General Contracting team, while in other segments it has been necessary to reduce costs.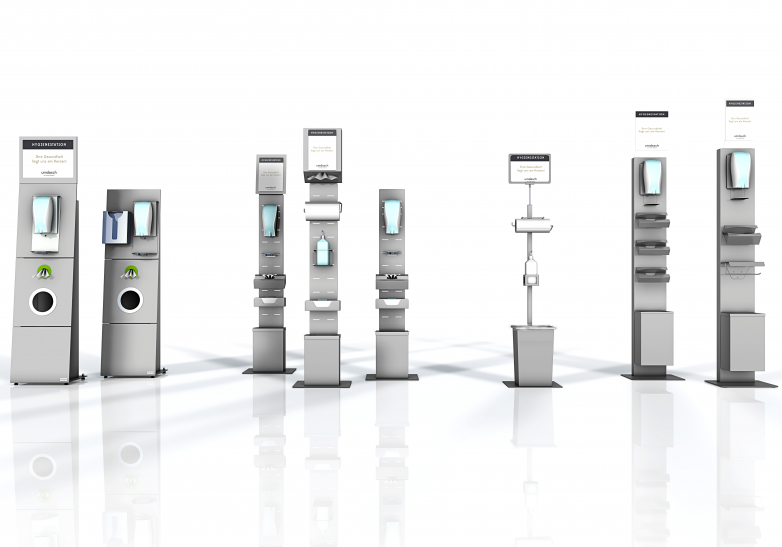 A propos: Trend Accelerator Corona. What has been the overall mood in your most recent discussions with customers and colleagues?
Corona has changed a great deal. We shall be dealing with these changes for a long time: they are becoming our "New Normality". Online retailing, for example, has rapidly gained market share and will continue its growth from this higher level. Sectors that are related to the way people travel, such as the duty-free business and the luxury industry, which is closely linked with it, will suffer for a long time.
Other sectors, especially the fields of "Home" and "Living", have moved further up people's pyramid of needs. The consumers' radius of action has become smaller and will remain so for the time being. This means that once again, they are spending more money on their immediate surroundings.
As an extension of this we are experiencing a stronger trend towards regional products: customers are buying more locally again. Within Europe this is even moving towards a new national consciousness. Here Corona has quite clearly worked as a trend accelerator, while in my opinion important mega-trends like sustainability and environmental protection have lost some of their relevance in the short term.
Last but not least, there has been a noticeable increase in the need for safety. And so our customers frequently ask how the shopping experience can be preserved or even increased, despite the social distancing and the masks.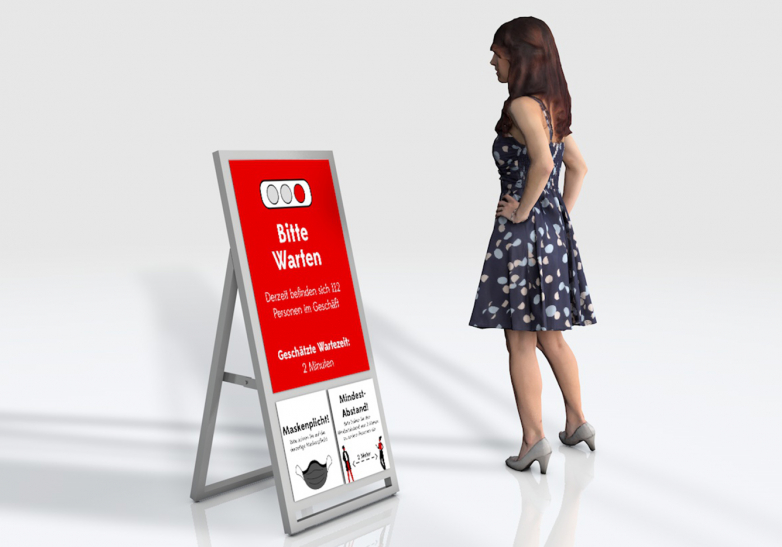 Customer Flow Management systems help to create a sense of security in the shopping experience and offer added value through individual advertising messages.

The EuroShop 2020 trade fair seems to have been light years ago. In your opinion, which of the trends that were presented there will survive?


We need to make a clear distinction between short-term shifts in trends and long-term changes brought about by Covid-19: sustainability aspects are currently of secondary importance for some consumers and retailers, but they will certainly become more important again before long. I see similar developments in digital solutions at the Point of Sale: investments in digital experiences in stores are essential for the future Customer Experience. There will be an increased impetus behind all processes which give sales staff more time for their main tasks, namely the giving of advice and selling. We see an even stronger movement towards Electronic Shelf Labeling (ESL) and technical automation for those processes which run in the background in stores. In short: automation currently comes before atmosphere.
But now to a new trend which will definitely live on. At the EuroShop our customers and business partners showed a preference for central contact persons in the implementation of their projects. In our business we have noticed a strong tendency since the lockdown in the direction of "everything from a single source". With fewer contact persons and interfaces, our General Contracting services are quite clearly gaining in importance.
And another observation: There are fewer standardised store rollouts across regions and countries – on the one hand because of the lack of willingness to invest, and on the other because the appearance of the shop is adapted to local colour. With our in-house designers from umdasch Shop Consult we have always been in a good position in this respect, and now we are in line with the spirit of the times.
And finally, completely new topics have also appeared: For example, clothing that has to be disinfected after it has been tried on. The area around the changing cabins has become more important, both as regards space and from a technological point of view.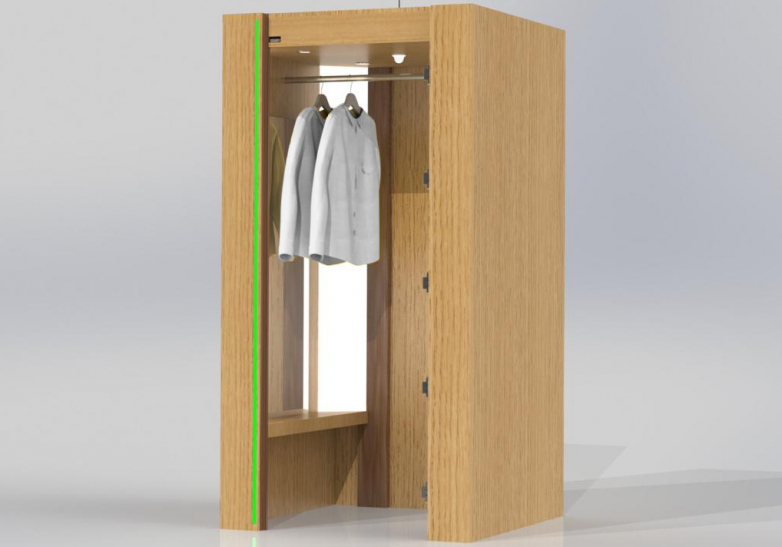 With the UV-C Fitting Room from umdasch, clothes can be disinfected in the changing room automatically.
Next week you can read in the second part of "Trend Accelerator Corona: Digital Retail" how the Digital Retail experts at umdasch support their customers with the latest technologies in this respect, and whether touch screens still have their justification!
In the meantime Silvio Kirchmair and the umdasch professionals will be happy to reply to your questions!