Refilling is booming: umdasch Liquid Dispenser for ECOVER at Sainsbury's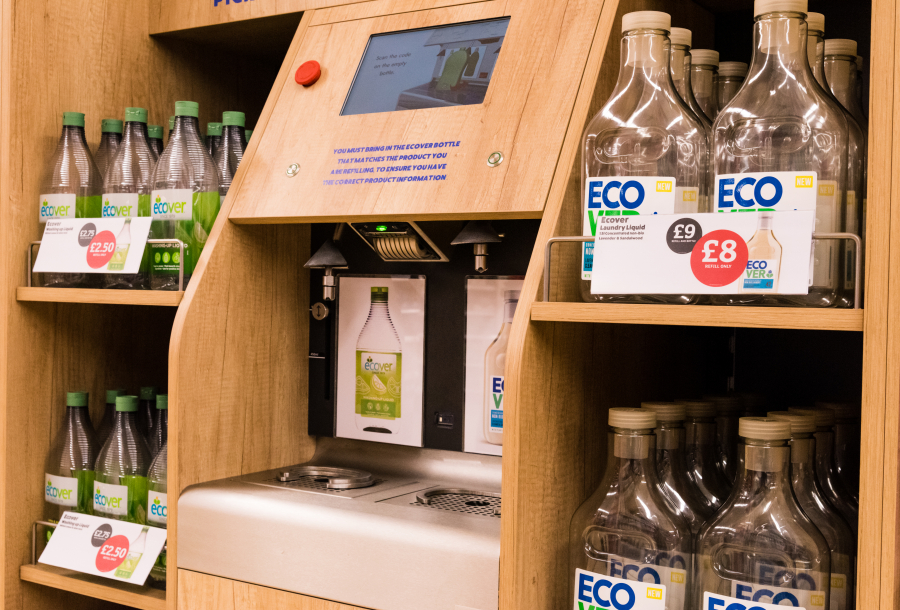 Press
Good news is especially important in difficult times. It is therefore all the more gratifying that umdasch has succeeded in achieving a further milestone in sustainable shopping opportunities with the Liquid Dispenser at Sainsbury's (UK). In cooperation with the British supermarket chain and Ecover, a manufacturer of ecological cleaning products, a refilling system was again installed outside the German-speaking area. If the first test run is successful, the system will be rolled out.
Sainsbury's is testing a new refill service for Ecover cleaning products at its Harringay supermarket in North London to help consumers reduce their plastic waste. As part of an initiative to become greener, the supermarket giant will allow consumers to bring their empty Ecover bottles and fill them with dishwashing detergent or washing liquid at the Liquid Dispenser. Alternatively, consumers will be able to buy provided bottles and reuse them up to 50 times.
Together for the environment
The significant installation of the Liquid Dispenser is the result of close collaboration between Ecover, Sainsbury's supermarket and The Store Makers. "Many essential factors have to be taken into account for refilling in chain-store retailing, be it simple handling, logistical processes or staff training", explains Robert Hauptmann, Sales Director at umdasch. The successful cooperation proves that this can be achieved.
"At Ecover we want to question the idea of single use packaging. This partnership with Sainsbury's is an important step to launch our 'REFILLUTION®' in the UK and to achieve our goal of making refilling more accessible to everyone", says Tom Domen, Global Head of Long-Term Innovation at Ecover.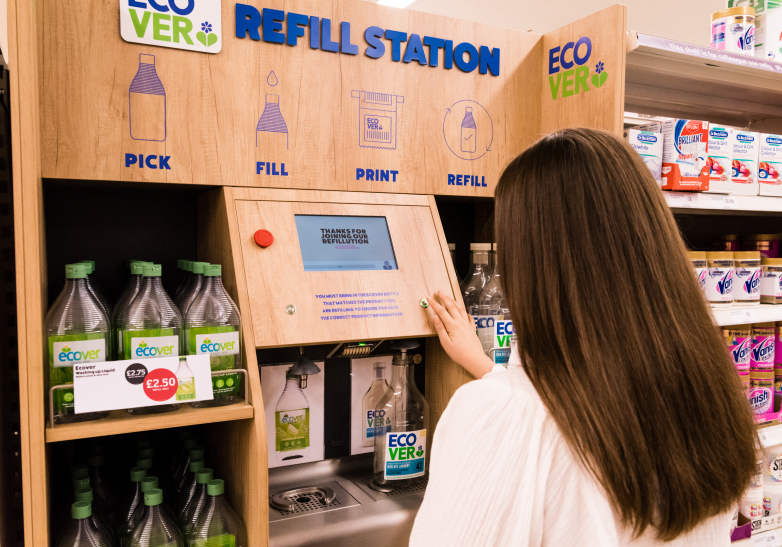 With the Liquid Dispenser from umdasch it is possible to fill liquid products such as detergent into a reusable container. The whole process is drip-free, clean and customer-friendly: the consumer is instructed step by step via a display. And this task is easy to understand: You simply scan the EAN code of the empty bottle on the device, it recognizes the product and the correct filling tap, you place the bottle underneath it, press the illuminated start button, wait briefly and remove the printed receipt. The Liquid Dispenser thus absolutely meets the zeitgeist: uncomplicated handling, outstanding design with a claim to environmental protection - in other words, "convenient and more sustainable" than using single use packaging.