Distinguished refilling station:
The Liquid Dispenser receives the Austrian Ecolabel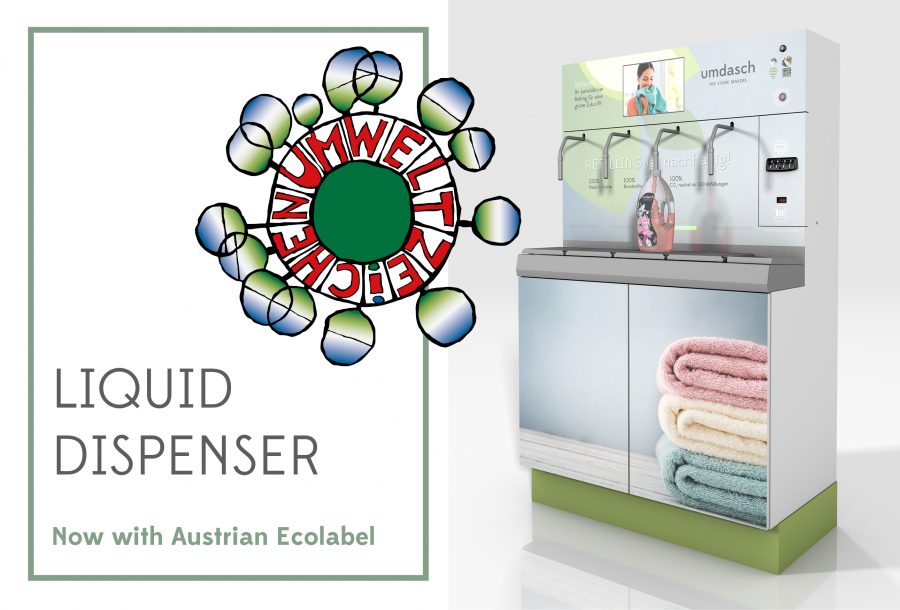 News
umdasch has long been convinced of the high environmental sustainability of its specially developed refilling system and now it has also been officially confirmed: The umdasch Liquid Dispenser has received the Austrian Ecolabel! It is the first umdasch product to be awarded the ecolabel and another important step for the shopfitting expert in terms of sustainability.
The Austrian Ecolabel follows a holistic product assessment in which the environmental impact of the production process, the choice of materials and the use of the product as well as the disposal, quality and usability ("life cycle") are examined. The accredited seal of quality thus stands for products and services that meet the highest ecological, health and quality requirements. The Liquid Dispenser passed the detailed examination of the above criteria with flying colours. Gerold Knapitsch, Managing Director umdasch Food Retail, is delighted with the award: "We are proud that our Liquid Dispenser now bears Austria's most important state-approved environmental seal. We always actively consider the sustainability aspect when developing new shopfitting solutions and it is great that we can offer our customers such a demonstrably environmentally friendly product." The Liquid Dispenser is already established on the market – among others, the drugstore chain dm uses the sustainable shopfitting system in over 120 branches in Austria. This success story will continue in 2022 with the installation of numerous refilling systems at a variety of retailers.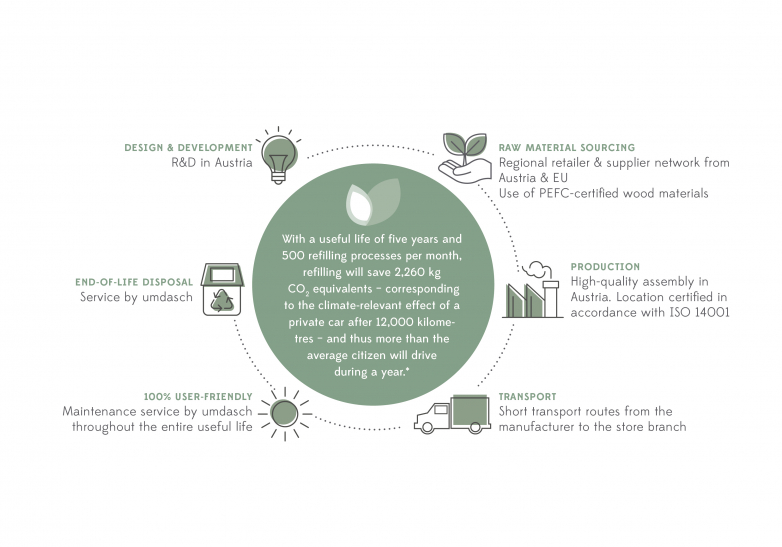 Step by step into a greener future
The Austrian Ecolabel is the first externally accredited environmental seal for a product from umdasch. However, this is only one step of many with regard to the comprehensive sustainability efforts of the shopfitting company, as described by umdasch Store Makers CEO Silvio Kirchmair: "We are under an obligation to ourselves, our customers and our staff – and ultimately society as a whole – to treat the resources we use with care. In this way we aim to make our contribution to a better and more liveable future, not least because we are also a part of that future." The efforts in terms of sustainability at umdasch are manifold – from the careful selection of environmentally friendly and durable materials to the attention to efficient transport and the resource-saving design of the manufacturing process. This is how the store makers realise ecological products and consequently successful stores.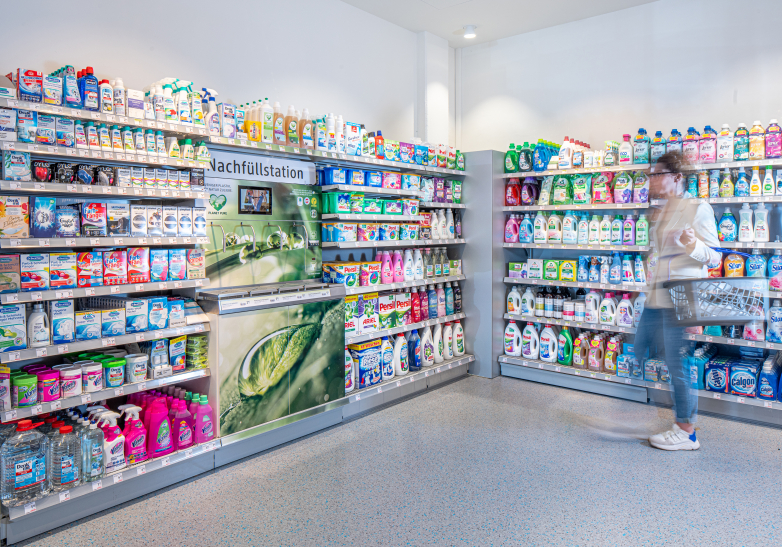 About the Liquid Dispenser
The Liquid Dispenser is a refilling station for the packaging-free sale of cleaning, laundry and body care products that combines sustainable action with a digital customer experience. By refilling the product packaging brought along, it brings about CO2 savings and plastic waste reduction. Especially compared to conventional disposable off-the-shelf bottles, the Liquid Dispenser undercuts them regarding the CO2 footprint within a very short space of time. In addition, it is IoT-capable (Internet of Things) – this means that through the optional integration into the umdasch eXperience Platform (uXP) it not only provides valuable data, but can also be supplemented with features such as electronic shelf labelling (ESL), digital signage or the inventory control system. The uncomplicated operation by customers and sales staff as well as the individual branding of the device round off the numerous advantages of the liquid dispenser. With refilling, retailers and industry partners make a striking and lasting statement at the PoS. And the consumers? With every refill at the touch of a button, they can help to reduce plastic waste in the future. More information at: umdasch.com/refilling