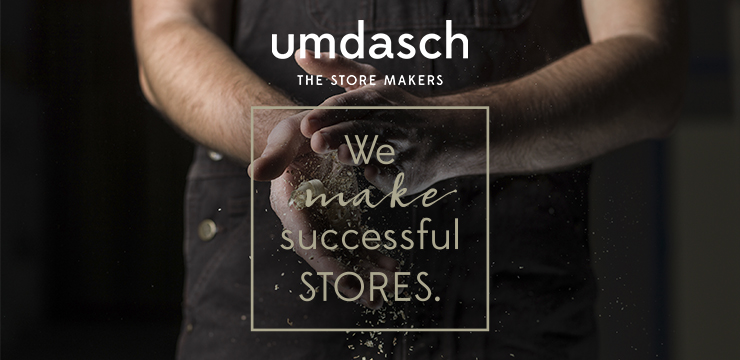 Zalando Headquarter, Berlin: Foodcourt from umdasch
In the summer of 2019, the new headquarters of Zalando, Europe's leading online platform for fashion and lifestyle, was completed and opened in Berlin. umdasch The Store Makers were commissioned as General Contractor for the construction of the food court in an area of 1,650 m² over two floors.








KTM Motohall: Ready to Race in the new fan shop
Mattighofen, Austria: After four years of planning and construction, the doors of the KTM Motohall were opened in early summer 2019. With its innovative concept and design, the building in the heart of the municipality of Mattighofen, just a few steps away from where the company was founded, speaks the unmistakably modern but also fast-paced KTM language. After being responsible for the shopfitting of KTM shops in over 70 countries, umdasch was also able to realise the fan shop in the new Brandland.








Barcelona Cruise Port Terminal: Conversion of cruise terminals A & B completed
After numerous successful openings of several duty frees at various airports worldwide, umdasch is now expanding its presence to include cruise ports, with the Barcelona Cruise Port Terminals A & B. With customer service in Dubai, design from Austria and production in the Czech Republic, umdasch once again underlines its competence in international cooperation.








11teamsports, Berlin: A temple for football fans
In mid-September 2019, 11teamsports, Europe's largest dealer for football equipment, opened the gates of its new flagship store at the first-class address in the Schloßstraße in Berlin. The concept including production of the interior design, integration of digital elements and implementation as general contractor comes from umdasch The Store Makers and plays a clear strategy on 340 m²: on the offensive!








RUOTKER'S - House of Whiskey, Gin & Rum: Distilled Gastro Solution
On 29 September 2019 RUOTKER'S was opened as "house of whiskey, gin & rum" in Riegersburg in the course of the "culinary autumn" of Styria. The new store for classy spirits from the second generation of the Gölles family was furnished by umdasch The Store Makers and shows full taste, from body to texture.








Brand Experience Worlds by umdasch Because knowing 'why?' makes you sustainably successful
If it were up to Friedrich Nietzsche, the places where people meet - to shop, exchange ideas or work, would probably have looked quite different for quite some time. As early as 1920, he said: "Those who know the "why" in life endure almost every "how" and have thus shaped modern psycho and logotherapy. Find out more in our trend report on the subject of Brand Experience Worlds by umdasch.








Digital Retail: Win a free Content Workshop!
Consumers need strong impulses to perceive new messages. Emotional moving images provide attention-grabbing information in employee communication, marketing and sales: provided they hit the nerve of the recipient. Our experienced designers work with you to develop highly effective content concepts, individually tailored to your situation and product range. Write us an informal e-mail with the keyword "Contentworkshop" and win an all-day consultation - first come, first serve!







umdasch The Store Makers

You are receiving this newsletter because you have registered your e-mail address for the newsletter service of umdasch The Store Makers or because you are a customer of umdasch The Store Makers. Please note: if you do not wish to receive our newsletter in future, please unsubscribe here. You will be removed from our mailing list immediately. Your e-mail address will not be passed on to third parties.