umdasch GreenShelf & Refurbishment
Green spectrum from umdasch
Do you know the shelf with the best CO2 balance? For all those who care about the shelf. GreenShelf takes on a supporting role as a back wall or as a freely placed product carrier in the room; regardless of whether it is made of sustainable materials such as wood mesh or clay panels. Aesthetic demands are not neglected with GreenShelf; nor is the best CO2 balance!
The refurbishment concept "refresh your shelf" also scores points as a sustainable solution for retail chains: Here, used product carriers are dismantled, cleaned, possibly re-coated and reassembled. A cure for the inventory and cheaper than investing in new product displays.
Back panels and Goods Carrier
Whether jute, linen, wood mesh, laminated panels made of recycled paper, bio-plastic panels, clay panels or even planted walls – with these material alternatives, extremely creative accents can be set. For the shelves, 3-layer boards made of local spruce are particularly suitable, for which a wooden scanner edge is also available.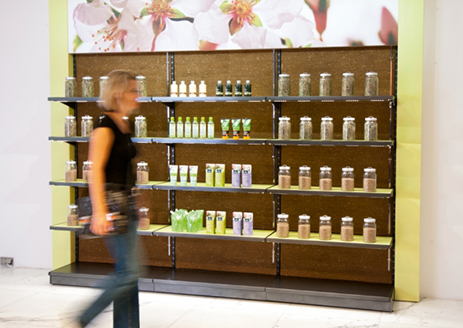 Green Shelf
The Greenshelf is a product carrier system with the best CO2 balance.
Christian Hammer
Business Development Manager